David Bland
Executive Chef
---
---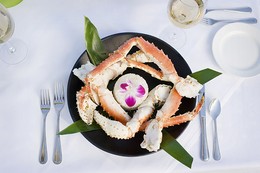 Executive Chef David Bland summed up his culinary philosophy in two very simple statements: "Food should be king. Food should speak for itself." His primary goal is to feature the products simple and unadorned without heavy-handed, processed techniques.
As a believer in the ever expanding and important culinary movement of eating locally, Chef Bland accepts responsibility for the culinary welfare of Peohe's patrons. He is contracting new purveyors for the restaurant, switching to local companies that work with resident farmers and fisherman, to provide some the season's best ingredients. While this limits the availability of some the ingredients on Peohe's menu, he doesn't see this as a bad thing. He spends much of his time studying traditional Polynesian and Pacific Island cuisine trying to make the dishes more authentic. By practicing seasonal cooking, he can return to these roots and promote the restaurant as being in harmony with its influences and surroundings.
Chef Bland gained experience for his job at Peohe's in two very important and different places. He spent time as a private chef for the Travolta family in Florida, often travelling with them to set locations and on vacation. Catering to their individual tastes and searching for food in different markets each week made it a necessity to be fluid and creative in his approach to cooking. He would frequent local farmers markets to purchase his daily provisions and design menus based on availability. It became a requirement to be open to the limitations of regional and seasonal availability of products, thus building the flexibility and imagination of a well seasoned chef.
Additionally, Chef Bland spent time working for the Levy Restaurant group at Portobello Yacht Club in Downtown Disney. As a corporate chef he learned the leadership skills necessary to run a large restaurant catering to tourists and large parties. He recognizes the importance of having a steadfast and repeatable menu as an important feature of his current restaurant, one that allows diners to have a uniform experience.
Chef Bland works hard to integrate himself into his communities. In Ocala, Florida he used to put on weekly cooking demonstrations and classes at the local farmers market in an attempt to work with the local products and reach out to his community. Private functions at Peohe's have featured dishes from his team of cooks, recently using a family recipe from one of his cooks and serving avocado ice cream as a tasting menu option.
His enthusiasm for the restaurant seems almost limitless as he spills forth ideas for where he would like to lead Peohe's. He is looking to add a tasting menu to the list of restaurant features, one that would allow diners to sample a variety of items. He is also tweaking individual dishes to reflect their roots and origins. Rather than feature some other European culinary techniques, the simple process of removing a sauce or an accoutrement will allow the food to "speak for itself." The respect and reverence he holds for cooking is reflected in every dish, something that allows the food at Peohe's to compete with the stellar views that the restaurant provides.
---
---