Nino Zazzo
Executive Chef
---
---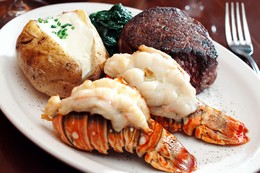 Executive Chef Nino Zazzo is a part of the Italian-American family born from Sicilian immigrants, the Busalacchi's. His uncle, Joe Busalacchi, incorporated his love for Italy with his passion for cooking when starting his first authentically Sicilian restaurant, Busalacchi's on Fifth. This fine dining bistro was a success, loved by Downtown locals and visitors alike, giving Joe the opportunity to open a series of Italian eateries in Little Italy, including the Trattoria Fantastica, Café Zucchero, Po Pazzo, Zia's Bistro, —all of which are directed under the trained eye of Chef Zazzo.
As the chef and I sat in the midst of Café Zucchero to talk about his culinary resume, I asked Chef Zazzo were he received his culinary training, he blithely replied, "my uncle!" which took me a little off guard. The technique and taste of Po Pazzo's creative items were complicated, and as I reminisced over the delectable bites I had tried the day before, I was almost sure the chef would have gone through rigorous training at the finest of culinary schools. But no—as a young boy Chef Zazzo knew that he was meant to enter into the Busalacchi's restaurant business, and was taught how to bring the traditional tastes of Italian cookery into American kitchens by Joe Buscalacci who had all but perfected the art.
Born and raised in San Diego, Chef Zazzo has been cooking professionally for 18 years and relishes in the fun and casual environment of Little Italy. This was apparent as he introduced us to his cousins strolling by and waved hello to several friends as we toured the Busalacchi line up of restaurants along India Street. "I want my guests to feel comfortable and at home—to feel like they are a part of the family", he said, a desire personified by his radiating charisma.
Among the friendly and intimate eateries owned by the Busalacchi's, Chef Zazzo and his uncle wanted Po Pazzo to stand apart from the rest . The restaurant offers a fun and playful experience amidst an elegant, fine dining setting—a theme undiscovered in other steakhouses. "It's a little crazy" he says with a smile.
Asked what he thought about the concept of an Italian steakhouse, a fusion that few experiment with, Chef Zazzo replied that he likes the culinary twist and enjoys cooking the Italian cuisine that he was raised with, as well as great steaks. The steaks at Po Pazzo are infused with Italian zest, something he is proud of. "The Sicilian Rib-eye is my favorite," he said, explaining that dusting the steak with herbed bread crumbs, parmesan, and spices is the Italian addition that makes all the difference.
Proud of the authenticity of his family's restaurants, Chef Zazzo explained that all the ingredients he uses are made in-house, and all the meats and cheeses are imported from Italy. In the midst of explaining this to me, he then excitedly said "let me show you something" and ran to the back of Café Zucchero. Coming back with a bruchetta loaf, and with the widest of smiles, he explained that all the bread served in the Busalacchi restaurants is made in the café. "Everything is fresh", he stated and smelled the bread, his eyes glittering, with pride.
With the diversity of options that a chef working with Italian cuisine has to work with, Chef Zazzo loves working with fish—his favorite item to cook. He verbalized his passion for creativity by relating "there is so much you can do with it". This culinary creativity can be experienced when trying Po Pazzo's Aqua Pazza—a fried whole rock cod, made slightly tangy by Chef Zazzo's delectable sweet and sour sauce; or the Oven Roasted Halibut sided by potatoes, served over garlic spinach with a lip-smacking Muscadat lemon butter sauce.
Chef Zazzo relishes in his Italian childhood where good food, family, and loads of fun made memories to last for a lifetime, a memory he hopes to recreate through the conviviality of his restaurants. Smiling, he relates that he wants his guests "to feel very at home, very comfortable, just as if they were in the family." Inviting everyone to take part in the live entertainment that Po Pazzo offers on weekends, and to relax in the friendly and homey atmosphere he and his family have created is his pleasure and one of his greatest joys. "I love making people happy… and pleasing the people, that's the most enjoyable part", he states as one of the biggest reasons he retains a passion for the kitchen—it is a passion that he is exceptionally successful at manifesting into a tangible experience diners can always remember.
---