Fabio Speziali
Executive Chef
---
---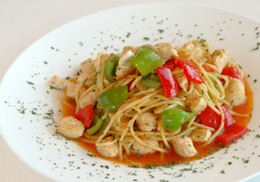 In the ten years since he moved from his native Italy to San Diego, Fabio Speziali has made a name for himself in the culinary circles around town. The owner of three restaurants in the city, Speziali not only oversees the day to day operations, he's also the head chef for the trio. To say he is a very busy man would be an exercise in understating. Somewhere in between him feeding hundreds of San Diego diners and managing a huge staff, there is a rare window of opportunity for me to sit down with Fabio for a few minutes to discuss his culinary acuity.
Fabio Speziali learned his way around the kitchen the old fashioned way, by watching and learning from his family. "Mostly it came naturally, just from years of being in and around the kitchen." He tells me. I ask him what made him take his kitchen insight to the level he is at now. He says, "I am inspired by both a passion for food and for people. It seemed only natural to put them together." In this day and age of celebrity chefs, molecular gastronomy, and eating to be seen, there seems to be a dearth in the thinking that going to a restaurant should be about enjoying a meal with enjoyable people. Speziali's restaurants are a reflection of this philosophy, blending his signature dishes with a sense of family. He keeps them intimate in order to further cultivate the feeling of kinship, even if you aren't eating with relatives, it may feel that way. "People seem to like what we do," He smiles, "So we keep opening restaurants."
Eyeing the huge portions set before us, I ask Speziali if he ever feels the need or desire to Americanize his dishes. He laughs briefly and grinningly responds, "Well, I am from Cuomo and my business partner is from Naples, so I'm not sure we could be anything but classic Italian if we tried! We even make pasta in-house." Speaking of house made pastas; I ask him if he has a current favorite on the menu. "It varies," He says, "We change up our menu all the time. Our specials change with the seasons." He does admit to providing a larger quantity than what a traditional Italian dish would have on it, but insists it is only because he wants his guests to get good value for what they pay for rather than trying to Americanize his ancestry.
One of my all time favorite desserts is the Tiramisu at Speziali's restaurant, Pomodoro. I ask him what makes it so darn good and he tells me simply, "Practice." I inquire about the recipe and he tells me it would take him some time to actually figure out what the measurements are. "After so many years, it sort of becomes- a dash of this, a pinch of this, and before you know it…Tiramisu!" Sort of like owning and cooking for three restaurants; after so long, you just sort of make it happen.
---