Javier Plascencia
Executive Chef
---
---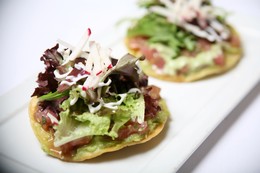 The name Javier Plascencia stands tall in the culinary scenes of Southern California and Baja Mexico. Born in Tijuana, Plascencia was introduced to the culinary industry by his family at an early age. He helped around his family's pizzeria, Giuseppi's, learning from his father basic techniques in the kitchen. Soon Plascencia's hunger to learn the culinary arts grew, so he attended school in San Diego to become a chef. Plascencia returned back to his hometown after graduating and became an apprentice to the chef of his family's restaurant Villa Saverios, further improving his skills and learning how to create Baja-Mediterranean cuisine, which is a hybrid of traditional Mexican cuisine blended with Mediterranean ingredients and flavors. This combination of Old and New World cuisine is made possible because the Baja California coastal climate mimics that of the Mediterranean region, allowing for the use of ingredients like abalone and arugula. Plascencia became a rising star. He then worked his way up to head chef of Villa Saverios and was featured in many national and international food magazines for his forward thinking approach to traditional Mexican dishes mixed with Mediterranean ingredients.
In 2006, Plascencia migrated across the border to open Romesco Baja Med Bistro in Bonita, California, introducing his culinary masterpieces in the art of Baja-Mediterranean cuisine stateside. Romesco is Plascencia's first restaurant in the States and already it has bloomed into one of Bonita's finest restaurants serving tapas dishes, pasta, and authentic Latin and Mediterranean cuisine. Plascencia creates a sprightly atmosphere in Romesco that produces good vibes from both the staff and guests. During my review, I step into his world and experience firsthand what he has to offer. The dishes at Romesco are on point with Plascencia's Baja-Mediterranean style. The mix of Mexican preparation with Mediterranean ingredients is found in tapas dishes like the Ahi Tuna Tostada: an arrangement of guacamole, fresh cream, mixed tender greens, lettuce, habanera salsa, and extra virgin olive oil with a single serving of fresh ahi tuna on top of a crispy tostada. Plascencia has the ability to create Mexican cuisine with ingredients and flavors from the Mediterranean region and it shows in the tapas at Romesco Baja Mediterranean Bistro. In early 2011, Plascencia returned back to Tijuana and opened Mision 19, a cool and modern restaurant that not only has Plascencia's signature Baja-Mediterranean cuisine, but a hint of Asian cuisine as well. At Mision 19, Plascencia provides contemporary dishes while infusing Baja-Mediterranean flavors that most people have not seen before.
Yet after opening multiple restaurants, revitalizing the culinary culture in Tijuana, and even being a guest chef in different cities, Javier Plascencia isn't done expanding his empire. He is in the works to open up a Bed and Breakfast near wineries in the Guadalupe Valley and seeing the success that he has already received from his business ventures, I'm sure that this new project will be just that. I can't image what Plascencia can't do. He does indeed stand tall above the rest and only keeps going from there.
---