Amy DiBiase
Chef
---
---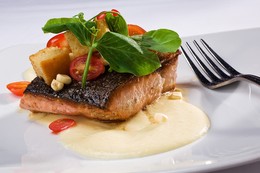 Ask Chef Amy DiBiase where she learned to cook, or why she cooks, and the response is like a layer cake: an Italian family, a mother who was a restaurant manager with a flair for desserts, and the fact that from a very early age, she, the oldest child, was making meals for the entire family.
That is where it began. From childhood, Amy knew her course and after high school she went from Portland, Maine to the prestigious Johnson & Wales University in Rhode Island. She earned two degrees: one in Culinary Arts and the other in Food Service Management. She spent her final two years at school, working as a sous chef at the award-winning Italian bistro Mediterraneo Cafe in New England. From there, Chef Amy went to Denver, to be sous chef at the Appaloosa Grill.
Chef Amy's direction seemed to keep moving west, and lucky for San Diego, that is exactly where she landed. But there is always more to the story:
Q: What made you want to come to San Diego? Any particular reason you chose
Point Loma for Roseville?
A: There are two reasons I came to San Diego: First, my mother and sister live here so it was the right choice after graduating and having to start paying off school loans. But what really got me to commit to coming here was the research I did on the dining scene, especially at Laurel...I fell in love with the menu and knew that I had to work there. It took me 2 months of emailing, faxing and personally bringing in my resume before they broke down and interviewed me. As for Point Loma, that's all George's doing. I was working at Baleen when he approached me about a location in Point Loma and that it was a go!
Q: How much of your family's Italian heritage do you find coming through your
cooking?
A: My family's influence comes through in the care that I take in every dish that I create. Cooking in my family is a way of expressing emotion. I really enjoy when customers tell me that my food reminds them of their childhood.
Q: Did you always plan on French-Mediterranean cuisine?
A: I grew up in an Italian family so that is what got me started cooking. I've worked in numerous restaurants with French influence/ technique so it's a cuisine and style that I love and have tremendous passion for. As for the Roseville concept, George and I always have agreed on having a French/Med influence.
Q: Regarding what you said about French influence and techniques,
can you describe in depth what you mean by French influence and technique, in
your terms?
A: My menu is very seasonal and focuses on traditional French recipes with a light Californian twist. One dish as an example would be our duck confit: we make our own duck confit which is almost a three day process between fabrication, curing and the actual 'confiting'.
Q: What is the single, biggest influence on your cooking right now?
A: The single biggest influence on my cooking right now is definitely the market, what's in season and what's not.
Q: I believe cooking with what is in season contributes to the success of your dishes. Do you plan menus ahead of time, anticipating what will be in season, or do you ever decide to go off menu with an extraordinary ingredient(s) that you couldn't resist?
A: I've been writing menus now for about five years and you just get into a flow of when it's time to change, I try to push myself to create new dishes every season but there are certain dishes that are such big hits that you just don't mess with. But if I come across an ingredient that I can't resist then I definitely go after it!
Q: Besides cooking with what is in season, what is a core philosophy of yours in cooking, a theory or belief that has been a factor in your career?
A: I always try to respect the ingredient, the tradition of cooking and my customers' palates.
Q: I realized that many employees from former places you have worked - like
Baleen - came with you to Roseville. Have you been with many of your staff for long periods of time, restaurant to restaurant?
A: I've know George since I moved here eight years ago and he has been a major part of my career and success. As for the employees, there are a couple here from Baleen that I formed more than just a working relationship with; we're all friends that have a similar passion for food and wine.
---