Michael Lina
Chef de Cuisine
---
---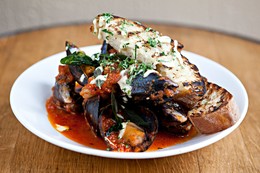 During our visit to Solana Beach CRUSH, my dining companion and I have the opportunity to meet Head Chef Michael Lina through his thoughtful cuisine first before being introduced to him in person. Not surprisingly, we soon realize that Chef Lina's genuine and approachable nature comes through in every dish that leaves the CRUSH kitchen.
Chef Lina is kind enough to join us toward the end of our visit (and right before the dinner rush) to discuss his culinary history, hopes, and triumphs. With a hearty hand shake, smile, and 'hello' we begin.
When I ask if Chef Lina is a native San Diegan, he explains that he is originally from the Philippines. In 1997, He came to the US and settled in Chico, CA, where he worked as a dishwasher in a hospital kitchen. He worked there for two years, putting himself through culinary school, before being hired on by a popular Chico fine dining restaurant at the time, The Black Pearl. Soon enough though, he heard that SoCal Siren song and moved to San Diego.
Then called Azul's La Jolla was lucky enough to Have Chef Lina for four years, during which time he doubled as a banquet chef for UCSD. The Chef led classes of eager pupils and honed his skills as a leader in the kitchen. These skills were soon put to the test as he earned his first Executive Chef position with one of the prestigious Marriott hotels in Los Angeles. Chef Lina was fully committed to the Marriott for four years and left his mark by moving his kitchen up the Hotel Group's ranks in terms of quality and presentation. The Hilton called upon him next, but it was a greater power that lit his way to CRUSH: Facebook. Indeed, a past coworker and friend found Lina on the popular social networking website to introduce him to the CRUSH group. As Chef Lina says, "the rest is history.
I already have a fairly good understanding of the CRUSH culture as it is no secret that the restaurant demands nothing short of excellence from itself, but must ask Chef Mina about his own particular cooking philosophy. "Fresh. Simple. Delicious!" is his quick answer plump with conviction. He explains that not only do all of the products he uses come from local farms, but he personally visits each farm monthly to ensure the quality never waivers. He adds, "I've built a lot of connections with venders that way… everything is local and sustainable.
Since it's obvious the Chef likes to know what he's getting and where it comes from, I want to know if there are any particular ingredients he's especially proud of this season. And of course the answer is an astounding 'Yes'! "I got my heirloom carrots today. I have purple carrots, yellow carrots, golden carrots… I'm using them in a medley dish, where the highlight isn't the protein but the carrots." The Chef's eyes light up as he describes his precious root vegetables and I can't help but be excited for him. It goes without saying that the CRUSH menu is seasonal—Chef Lina changes his menu quarterly so that he can better showcase such unique finds as his heirloom carrots.
Funny enough, Chef Lina has yet to visit Italy himself. Although, you wouldn't know it by tasting his many rustic and satisfying dishes that boast house-made pastas and slow-cooked sauces. That trip is on the Chef's bucket list, and I have a feeling that his visit to Italy will be more like a family reunion.
Many chefs do many things well; it's not all that difficult to find a chef that can cross cuisine types and carry off his or her creations with confidence. That is the art of the craft. However, it is rare to taste a chef's food and learn something about him. It is a treat to have met Head Chef Michael Lina and know for certain that his ideals as a craftsman are shared by Solana Beach CRUSH. Each dish guests sample speaks to a shared desire to only and always provide the freshest, highest quality product possible. And, luckily, that product just so happens to taste amazing!
---