Shi Zhu
Chef
---
---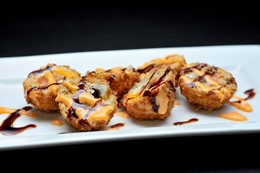 Executive Chef and Operating Partner Shi Zhu seems to always be sporting an effervescent smile and a knack for choosing key ingredients. His culinary theory is a montage of creativity that surfaces in every dish he prepares. Hailing from China, Zhu attended Shanghai Culinary School and immediately delved into launching his culinary career.
Chef Zhu's first break began at Shanghai Restaurant running the kitchen. Soon after, Chef Zhu opened Tai Pan in Berlin, Germany. And though it may seem like he couldn't be any more accomplished with all of this international culinary experience under his belt, Zhu found his way to San Diego to pursue the opening of his own restaurant, Shanghai City, later named Best Restaurant by City Beat in 2008. But don't be fooled by his prestigious track record-- this reputable Chef and noodle enthusiast still enjoys the dishes his mom used to make like Fish and Chives or Spicy Three-Ingredient Lo Mein
Having studied in China and lived in Europe for an extended period of time, Zhou comes armed with a refined palate, understanding flavor combinations, the importance of a cultural influence, and above all the creativity that goes into every dish at The Dragon's Den Restaurant. He now works side by side with Managing Partner Michael Lou who shares the same inspirational vision--achieving traditional Asian cuisine made for the curious modern palette.
---