Martin Gonzalez
Owner
---
---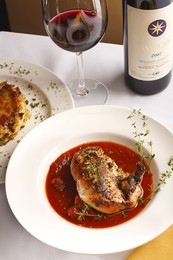 Toast Enoteca & Cucina is the actualization of a dream for Chef Martin Gonzalez. He wanted a space for relaxing and socializing with friends set to fine wine and delicious Italian food in the form of small but substantial plates. Akin to the sociable setting of Toast Enoteca & Cucina, the menu is similar to Spanish Tapas in portions but the cuisine is distinctly Italian with a modern twist. Although Toast Enoteca & Cucina is a new venture for Gonzalez, this is not his first foray into San Diego dining, but a shining example of his passion for Italian culture and cuisine.
Chef Gonzalez did not always want to be a chef, but he changed thanks to a very special trip to Italy. Enlightened by Italian culture, he decided to enroll in cooking classes at the Instituto Culinario Apicius. Chef Gonzalez's culinary prowess was soon recognized at the elite institute where he was awarded "Best Student." While in cooking school, he studied under renowned Chef and Owner of Acqua Al 2 Chef Stefano Innocenti in Florence, Italy. This gave Chef Gonzalez the opportunity to receiving hands-on experience in preparing authentic Italian cuisine. Working in an Italian Kitchen inspired him to bring his experiences to the United States-- especially Italian hospitality.
Opening Acqua Al 2's second restaurant in San Diego's historic Gaslamp Quarter in 2000, Chef Martinez channeled his fascination with Italian Culture by serving up traditional Italian fare in the same fashion as its sister location in Florence. His passion proved worthy-- Acqua Al 2 is one of San Diego's most popular Italian restaurants, undoubtedly making his mentor Chef Innocenti proud. For his first foray into restaurant ownership, Chef Martinez performed exceptionally well, receiving "Favorite Italian Restaurant" from 2003-2007, 2009 and 944 Magazine's Platinum award for "Best Italian Dining" in 2007 among other awards -- adding to Acqua Al 2's celebrated reputation.
Chef Gonzalez has truly made his mark in San Diego's culinary community with his two restaurants-- Acqua Al 2 and Toast Enoteca & Cucina. He has become an important part of the Downtown's culinary fabric in addition to San Diego's sports culture-- he even cooks the post-game meals for the Padres at each home stay.
---
---