Tom Golide
Executive Chef
---
---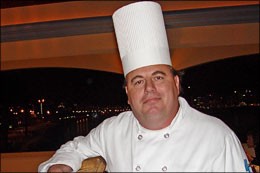 As a child growing up in northern California, Chef Goldie always enjoyed helping out in the family kitchen with the preparation of various snacks and meals. His family always had something growing in their garden, and young Tom learned the value of fresh herbs and vegetables at an early age. It was not until he was in his early teens, however, that he became seriously interested in turning his personal passion into a career.

By the time he was 15 years old, with no previous formal training, he began working as a cook in a local omelet house that had a policy of making everything from scratch. This was a perfect opportunity for him to learn basic food preparation techniques from the ground up. He vowed to the owner that he would be managing kitchen operations by the time he was 18, and was able to keep his word.

Tom's talent and fortitude impressed his employer so much that he made the decision to become a mentor to the young chef. Realizing that the rising star in his kitchen was destined to move up in the industry, he took the lead in the process by introducing his chef to contacts that he had within the Hilton Hotel system, and Tom was eventually hired by prominent chain of properties.

Once he became a Hilton employee he was given intensive training in the culinary arts at their training centers in the San Francisco Bay area. Within this school, chefs were intensively tutored and constantly tested to demonstrate their acquired expertise. Tom quickly went from a three to four star appraisal, and ended up as being one of the few graduates to achieve the coveted five star rating.

After working with Hilton Hotels for over 8 years, he moved on to be Executive Chef at the acclaimed Shadowbrook restaurant in Capitola, California, where he was employed for several more years.

To the delight of local diners, Chef Tom Goldie has since relocated to the San Diego area and was recently hired to redesign and upgrade the menu at Tom Ham's Lighthouse. Luckily for guests, he has already made vast improvements to both their dinners and Sunday Brunch selections.

Tom Ham's has always been known for good food and great ambience, but they now have an Executive Chef that is every bit as impressive as their magnificent view.
---