Gerardo Espinoza
Executive Chef
---
---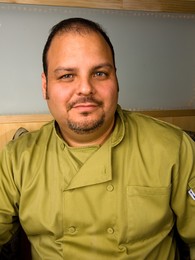 I've heard people say that with an education from a reputable culinary school, you can write your own ticket. You learn culinary basics, are schooled in how restaurants and hotels operate, and more importantly, stay in business and possibly make names for themselves.
I say never discount the chef who started in his own mother's kitchen, has worked every position in a professional one, and whose desire to learn took him from dishwasher, to line cook, to Executive Chef. Experience breeds the open-mindedness and empathy required of a leader and well-regarded chef. Treating every member of your team as an equal is easier if you've earned your stripes from the bottom up. It's inspiring.
This is the story of Chef Gerardo Caballero. The notion that you can take a childhood-taught skill, let an interest guide you into a vocation, and make a career out of something with bare knuckles and ambition is evident in his work at Urban Bar and Grill. Chef Caballero has been with the Dining on Fifth Group through two restaurants now, but refuses to be complacent.
While dining there, I noticed how everyone, from the guests to the staff, seemed happy. Chef Caballero's professional ascent has earned him recognition. His accrued culinary wisdom, in my single visit, earned my appreciation.
Where and when did you start your culinary career?
As a child, I started cooking in my home town [at home] under the supervision of my mom, who taught me how to cook home-style Mexican food. I started my culinary career in Downtown San Diego in the early 1990's. I began working in a well-known restaurant in the heart of the Gaslamp Quarter. As I progressed I came along many opportunities to get ahead in my career and eventually ended up being an Executive Chef.
Was cooking something you always wanted to do, or did it choose you? What did your training consist of? What was your first position?
Cooking chose me because I was more interested in beverage direction rather than the kitchen. However, when I came to San Diego I started working as a prep [cook] in the kitchen as well as a dishwasher. I worked very hard to learn all that I could from the chef of the kitchen and eventually I was teaching myself. I knew being in the kitchen was a much better suit for me because I found my passion working with my team as a chef. I have found that knowing every aspect of the kitchen from dishwasher to executive chef has helped me become a true leader for my team.
How many restaurants have you worked in?
I've worked in three different restaurants. I learned how to cook Italian cuisine from a well known Italian chef. Soon after, I began to work at a steakhouse along with other talented executive chefs.
Have you always cooked here in San Diego, or do you have other regions influencing your cuisine?
Yes, I have always cooked in San Diego with an influence of an Italian cuisine.
You mentioned that your wife sometimes encourages you to try different combinations. Do you experiment at home and the restaurant?
She likes to taste the experiments that I create at home, as well as the many others I create at the restaurant.
Do you try new ideas, recipes? How often?
I like to try new recipes at least once a week. I will normally set them as specials to see which dishes are favored amongst the customers. If the dishes are highly favored, they will be added to the menu.
Do you incorporate many local farms, purveyors, or suppliers into the restaurant's cuisine?
We have different purveyors from local farms as well as in LA, providing high quality ingredients.
The staff informed me that your marinades and style of grilling meats and chops make them items of high demand. Please tell us about your approach to the meatier side of your menu.
We have a special marinating process with olive oil and fresh herbs, which make the flavors in the meat stand out. We sear the steaks at high temperature to maintain the natural juices within the meat. We serve an all-natural premium Angus beef without antibodies, growth hormones, or byproducts.
I love your treatment of fruits and vegetables, from the Artichoke Spread to the pasilla peppers with diced mango. You puree, dice, sauté, braise, and grill them, while letting them be simple and delicious. What's your favorite way to prepare vegetables?
My favorite way to prepare them is by grilling them and then drizzling with extra virgin olive oil, garlic, salt, and pepper to keep the flavor as natural as possible.
---
---