Heirloom Tomato Gazpacho Recipe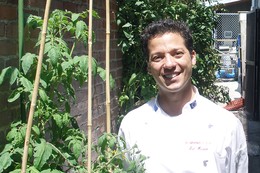 About: Il Grano Chef Sal Chef Marino is especially passionate about tomatoes, which appear in mid-summer. Sal currently grows over 40 varieties of tomatoes in his garden, and even features Tomato Wednesdays in summer, featuring tomatoes as a key ingredient in each dish. This dish, a chilled tomato soup, showcases the brilliant flavor and vibrant color of heirloom tomatoes.
---
Cook Tip: Only in summer are tomatoes at their best. Be sure to make this cold soup on a warm summer day.
---
Recipe Info
Meal Type:
Recipemealtype object (5)
Main Ingredient:
Recipemainingredient object (153)
Dish Type:
Recipedishtype object (2)
Cooking Method:
Recipemethod object (14)
Season/Occasion:
Recipeoccasion object (8)
Dificulty:
Recipedifficulty object (1)
---
Directions
Recipe
Cut tomatoes coarsely in 2-inch squares. Place in blender, add bread, bell pepper, onion, and olive oil. Turn the blender on max speed and puree until smooth. Flavor with salt and pepper to taste. Pour soup into soup bowls. Add a splash of olive oil, ground pepper. May garnish with some micro greens in center of each bowl.
---
Recipe Note:
Finish with some lobster or crab to make it a luxurious dish. Use some cooked shell fish and place on dish before serving. Adding piece of burrata cheese is another possibility, as is adding some croutons to keep the dish vegetarian.
Ingredients
2 lb. heirloom tomatoes
3 oz. bread
1/4 bell pepper
1 oz. onion
1 C. extra virgin olive oil
(to taste) salt and pepper
Copyright TableAgent.com
© Restaurant Agent Inc.
---
---