Veal Chop Valdostana Recipe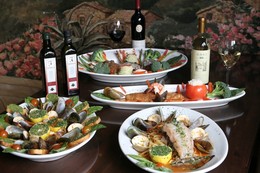 About: Tired of creating dishes with beef, pork, or chicken? Well, Fresco Trattoria's Executive Chef/Owner Leon D' Arcangelo has created a recipe that utilizes veal chop as its main attraction. The Veal Chop Valdostana comes with a healthy amount of Italian prociutto di parma, buffalo mozzarella cheese, orgainc baby spinach, and white onions. This dish pairs well with red wine and will be the center piece at the dinner table.
---
Recipe Info
Meal Type:
Recipemealtype object (5)
Main Ingredient:
Recipemainingredient object (156)
Dish Type:
Recipedishtype object (4)
Cooking Method:
Recipemethod object (3)
Season/Occasion:
Recipeoccasion object (12)
Dificulty:
Recipedifficulty object (2)
---
Directions
Recipe
Saute the spinach and white onions in 1 tablespoon extra virgin olive oil, set aside.
Fold the prosciutto in with 2 oz. of the Buffalo Mozzarella. Stuff the veal chop with the prosciutto mozzarella mixture along with the sauteed spinach and onions. Marinate for 10 minutes with salt, pepper, and olive oil. Grill for 12-15 minutes or until done. add 2 oz. of the Buffalo Mozzarella to top and let melt. Served with mashed potatoes, sauteed vegetables, and garnish with Gorgonzola sauce.
Gorgonzola Sauce
Heat a saucepan over medium heat. Add butter to melt. Saute onions until tender. add the manufacturing cream and let reduce by half. Turn heat to low, add the Gorgonzola and stir until it melts. Use as garnish for the veal chop.
Ingredients
12 oz. veal chop
3 oz. Gorgonzola
1 oz. Italian prosciutto di parma
2 C. manufacturing cream
4 oz. buffalo mozzarella cheese
1/2 oz. butter
2 oz. organic baby spinach
2 Tbsp. onions, finely chopped
2 oz. white onions
Copyright TableAgent.com
© Restaurant Agent Inc.
---
---