Seasonal Mix Salad with Semi-Dried Apricot and Rye Toast with Cheddar Recipe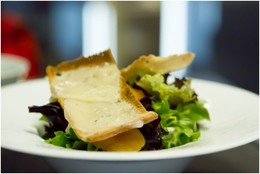 About: TWIST inside the Mandarin Oriental Hotel is offering a recipe for a refreshing seasonal mixed salad that is perfect for the summer season. Executive Chef Pierre Gagnaire has created a beautiful medley that has seasonal organic mesculin salad and semi-dried apricots as its main attracting. Quick and simple, the Seasonal Mix Salad with Semi-Dried Apricot and Rye Toast with Cheddar is superb choice for an appetizer for brunch and lunch.
---
Recipe Info
Meal Type:
Recipemealtype object (3)
Main Ingredient:
Recipemainingredient object (15)
Dish Type:
Recipedishtype object (3)
Cooking Method:
Recipemethod object (14)
Season/Occasion:
Recipeoccasion object (8)
Dificulty:
Recipedifficulty object (1)
---
Directions
Recipe
A few hours in advance or the day before, cut semi-dried apricot in half through the vertical axis and freeze. Thinly slice the rye bread and toast in a broiler or toaster oven. Top the rye toast with thinly sliced cheddar when it is golden brown and still warm. In a bowl, toss the mesculin salad with extra virgin olive oil, lemon juice, salt and pepper to your taste. Assemble the salad in a bowl and top with the frozen apricots and warm cheddar rye toast.
Ingredients
- Seasonal organic mesculin salad
- Semi-dried apricot
- Rye bread
- Aged California cheddar
- Extra-Virgin olive oil
- Lemon
- Salt
- Pepper
Copyright TableAgent.com
© Restaurant Agent Inc.
---
---