Pumpkin Soup (Musque de Provence) Recipe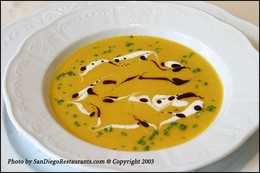 About: Chef Martin Woesle, Head Chef from Mille Fleurs, pumpkin soup is full of flavor, perfect for a brisk fall day. The subtle sweetness from the pumpkin is paired ingeniously with onions, garlic, fresh ginger, and chicken or vegetable stock. In addition, Chef Woesle adds ground nutmeg and cinnamon to complement the other flavors. Serve as a starter to any meal, or with a fresh baguette and hearty salad for a light yet satisfying meal.
---
Recipe Info
Meal Type:
Recipemealtype object (5)
Main Ingredient:
Recipemainingredient object (129)
Dish Type:
Recipedishtype object (2)
Cooking Method:
Recipemethod object (18)
Season/Occasion:
Recipeoccasion object (12)
Dificulty:
Recipedifficulty object (2)
---
Directions
Recipe
Cut the pumpkin into 1-inch or smaller cubes. Melt the butter in a soup pot on medium heat; add onions and sweat, about 5 minutes. Add pumpkin pieces, garlic, and ginger. Add stock and boil until pumpkin is very soft. Add cream, nutmeg, and cinnamon and bring to a boil again. Carefully transfer soup to blender, or using an immersion blender, puree soup. Serve in warm cups or bowls, decorated with swirls of cream, chervil leaves or fine cut chives, or pumpkin seed oil.
---
Recipe Note:
This is a simple dish that is again, great for the fall or winter. After using the blender, you can pass this soup through a fine mesh strainer to get out any remnants of possible seeds or large bits that were unblended.
Ingredients
3 lb. fresh pumpkin, skin and seeds removed
4 Tbsp. butter
1 C. chopped onion (6 oz.)
1 Tbsp. diced garlic
1 Tbsp. diced fresh ginger
1 1/2 qt. chicken or vegetable stock
1/2 C. heavy cream (whipping cream)
1/4 tsp. ground nutmeg
1/4 tsp. ground cinnamon
1 pinch fresh chervil leaves or diced chives
1 tsp. pumpkin seed oil (optional)
Copyright TableAgent.com
© Restaurant Agent Inc.
---
---