Legendary A1 Burger Recipe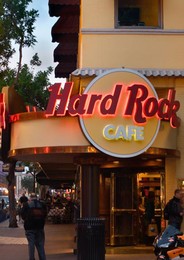 About: The signature burger from the Gaslamp's Hard Rock Cafe, the A1 features a 10 oz angus patty, Cajun spiced bacon, and a touch of San Diego love. This hearty, flavorful burger would go great with any tasty beer on tap at the Hard Rock Cafe.
---
Cook Tip: You can take A1 Steak Sauce and mix in about three to four table spoons of it with about one pound of hamburger. The higher the fat content, the more flavor in the ground beef. Before you place the patties on the grill, add a little bit of oil to both sides and season generously with sea salt and fresh cracked pepper. For the garlic parmesan sauce, you can finely dice a few cloves of garlic and grate about 1/4 cup of cheese and reserve. If you have a fryer, fry the frozen potatoes per directions and toss the garlic, fresh cracked pepper and parmesan cheese into a mixing bowl along with the just fried fries. Toss to coat and serve with ketchup or more A1 Steak Sauce.
---
Recipe Info
Meal Type:
Recipemealtype object (5)
Main Ingredient:
Recipemainingredient object (25)
Dish Type:
Recipedishtype object (4)
Cooking Method:
Recipemethod object (3)
Season/Occasion:
Recipeoccasion object (12)
Dificulty:
Recipedifficulty object (2)
---
Directions
Recipe
Season beef patty and fried onions with Hard Rock;s special seasoning.
Served with 7 oz of French fries, tossed in garlic parmesan sauce.
Ingredients
1 Toasted potato bun
1 Peppercorn aoli
add Arugula
1 slice(s) Tomato
10 oz. Angus Beef Patty
1 A1 sauce
2 slice(s) Melted Jack cheese
1 Hard Rock's sweet Cajun spiced bacon
1 slice(s) Thinly sliced fried onion
Copyright TableAgent.com
© Restaurant Agent Inc.
---
---