Aaron Valenzuela
Executive Chef
---
---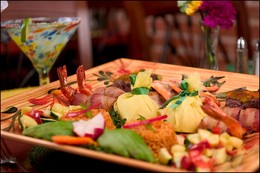 La Fiesta could not be the Mexican/ Seafood king of the San Diego Gaslamp district without the creativity and visions of Executive Chef Aaron Valenzuela. Born and raised in Mexico City, he came to La Fiesta in 2000 searching for work in the kitchen to put his ideas to work. He loved to cook simply for the pleasure of seeing customers smile with each bite, knowing they are more than satisfied. For Aaron, cooking has always been an important part of his culture and heritage. Ironically, he does more cooking for strangers than he does for family. "I only cook for the family on two days: Christmas and Mother's Day," he laughs. "It's hard to commute between two places and be expected to cook constantly."
All of Aaron's recipes are based off other dishes, but he always adds his own flavors to it. The Albondigas Soup is traditionally from his grandmother's recipe, though he adds mint and avocado along with the oversized meatball that sits in the broth. "Cilantro is my personal favorite," he added. "You can mix it with anything. Throw it in with some tomato and dry chili and you've got yourself a masterpiece already." The Chef has so many favorite creations that the list seemed endless, but his personal favorite is the Chamorro de Puerco en Salsa Pasilla, with the pork sauce being the highlight. "The sauce adds such flavor that without it, the dish would be something entirely different. I couldn't eat it without the sauce today, and probably neither would a customer!"
Throughout Aaron's experience in cooking at La Fiesta, he has learned just how important his instruments are to him. In 2004, a fire started accidentally by one of the fryers almost cost the entire kitchen. Fortunately, there was no terrible damage and only two fryers were lost, but Aaron felt like it was losing two children. "The kitchen becomes your life," he said with sincerity. "You can't put forth your creativity without your instruments. Everything is important… from the pot that holds the water to the spoon you use to stir and taste the sauce. I was very lucky not to lose anything else in that fire." For some, the kitchen is just a room, but to Aaron, it is a living entity. "My kitchen is a part of me now," he admits. "We go through every day together and over time it has become a huge part of my life. I don't know what I would do without."
Since then, Aaron has only gotten more and more ingenious with his dishes while expanding his knowledge in the cooking world. In 2005 he finally made San Diego his home after years of commuting between downtown and Tijuana, where he studies gastronomy in college. With his newfound degree, he feels that with a broader knowledge of different cultures and their relation to food will allow him to expand on his creativity and bring more unique dishes to La Fiesta's kitchen. For him, San Diego is just as much a home as Mexico City, and he is more than happy to have some stability in travel rather than just going back and forth constantly between cities. "The border was always rough to wait at. It is such long hours. I'm glad it's over," Valenzuela admits. When asked about how he feels about the Gaslamp area in particular, he just smiled. "There are lots of patrons and a lot of nice people. As long as they're willing to try new things, I'll keep giving them new things." The busiest times for Aaron and La Fiesta are during big conventions such as San Diego's Comic Con when floods of people come in, and sometimes in costume. "People are always dressed so crazy and creative. It's an inspiration you could say!"
Aaron Valenzuela's philosophy about his unique take on cooking is ironically pretty simple. "I just cook for the creativity," he said in his thick, Latin accent with pride. "You don't really have to follow a formula. You have a kitchen, your ingredients, and you start from scratch and make everything your own!" From all the unique dishes I had eaten that evening, his philosophy certainly seemed true. Everything on the menu involves a feature that makes even the most mainstream dishes seem new compared to other restaurants. Aaron certainly has no fear of blazing his own path in the cooking world rather than following a trail that others have left before him, and it is this fearlessness that makes his dishes so daring and unique for La Fiesta.
---
---