Chicken Strogonoff Recipe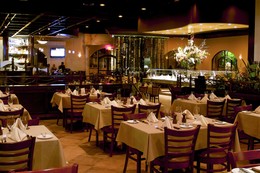 About: This recipe reflects one of Via Brasil Steakhouse's many popular dishes and may be enjoyed at home as well.
---
Recipe Info
Meal Type:
Recipemealtype object (5)
Main Ingredient:
Recipemainingredient object (48)
Dish Type:
Recipedishtype object (4)
Cooking Method:
Recipemethod object (6)
Season/Occasion:
Recipeoccasion object (12)
Dificulty:
Recipedifficulty object (2)
---
Directions
Recipe
In large pot sauté chicken with olive oil. Cook for 5 minutes or until chicken is golden on all sides. Add brandy and chicken stock and deglaze pot. Add mustard and heavy cream, bring to simmer and simmer for 10 minutes. Add ketchup and mushrooms and cook on low heat for 10 minutes. Salt and pepper to taste. Serve with white rice.
Ingredients
4 each Chicken Breasts (deboned, skinned, diced in cubes)
3 C. Heavy Cream
1/4 C. Chicken Stalk
2 tsp. Ketchup
2 tsp. Mustard
1 C. Mushrooms, sliced
1 oz. Brandy
1 pinch Salt and White Pepper to Taste
Copyright TableAgent.com
© Restaurant Agent Inc.
---
---