Jumbo Sea Scallops with Green Goddess Dressing and Sundried Tomato Tapenade Recipe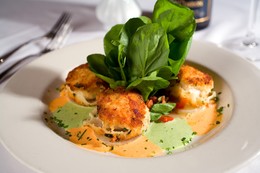 About: The key to the succulent scallops served at Georges on Fifth is the scallops themselves. Dry day boat scallops, which are not preserved with any additives and are brought back to land and sold the day they are caught, are the freshest available, and its freshness ensures an unrivaled flavor. In this signature dish, Chef Kelley combines the scallops with a simple bread crumb coating and two different sauces for a dish that is both visually appealing and delicious.
---
Cook Tip: The two accompanying sauces in this recipe are prepared in large quantities at Georges on Fifth. Quantities have been reduced here, but will still yield more than is needed for 2 servings. To make use of extra dressing and tapenade, serve this dish with a simple green salad and a sliced baguette.
---
Recipe Info
Meal Type:
Recipemealtype object (5)
Main Ingredient:
Recipemainingredient object (138)
Dish Type:
Recipedishtype object (4)
Cooking Method:
Recipemethod object (6)
Season/Occasion:
Recipeoccasion object (12)
Dificulty:
Recipedifficulty object (2)
---
Directions
Scallops
Break eggs into a bowl and whisk together. Pour bread crumbs into a second bowl. Working with one scallop at a time, dip scallop in eggs and gently toss to coat, then transfer scallop to bread mixture and toss to coat again. Set breaded scallop aside and repeat with remaining scallops.
Heat olive oil in a large skillet over medium-high heat until warm. Add breaded scallops and sear on one side, about three minutes. Flip scallops and continue to sear on other side until golden, about two minutes more. Remove pan from heat and arrange scallops on plate. Top each scallop with 1 teaspoon of Sundried Tomato Tapenade and drizzle entire dish with Green Goddess Dressing (recipes below).
---
Scallops Note:
If you are unable to find dry, day boat scallops, this recipe will work with any scallops.
Sundried Tomato Tapenade
In a sauté pan, add sundried tomatoes plus enough water to cover the tomatoes, and bring to a boil. Remove pan from heat and strain the tomatoes. Combine the tomatoes with garlic, capers, lemon juice, olive oil, and basil. Pour mixture into food processor and roughly chop until a relish consistency is achieved. Season to taste with salt and pepper.
---
Sundried Tomato Tapenade Note:
This recipe yields 1 cup, or enough to top 48 scallops. The recipe can be cut in half, or, the additional tapenade can be served atop a warm sliced baguette as an appetizer.
Green Goddess Dressing
In a blender, combine all ingredients except oils. Slowly add canola and olive oil to blender, continuing to blend until well-incorporated. Season to taste with salt and pepper.
---
Green Goddess Dressing Note:
This recipe yields about 1 cup. Additional dressing can be used to top an accompanying salad. Dressing will not keep, and should not be stored after use.
Ingredients
2 eggs
1 egg yolk
1/2 C. sundried tomatoes
1 C. Panko bread crumbs
2 tsp. lemon juice
1 1/2 tsp. garlic, minced
1 1/2 tsp. capers
8 dry day boat scallops, u10 size (jumbo)
1 anchovy
1 1/2 tsp. lemon juice
2 Tbsp. olive oil
2 tsp. parsley
2 Tbsp. extra virgin olive oil
4 tsp. chives, chopped
1 1/2 tsp. basil, cut into thin strips of chiffonade
1 tsp. tarragon, chopped
1/4 C. watercress
2 2/3 Tbsp. cider vinegar (2 tablespoons + 2 teaspoons)
1/3 tsp. salt
1/3 C. canola oil
1/3 C. olive oil
Copyright TableAgent.com
© Restaurant Agent Inc.
---
---