Chicken Tiki Masala Recipe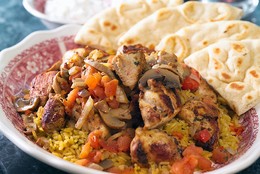 About: Pamma's recipe for Chicken Tiki Masala is classic Punjabi comfort food that is easy for the home cook to prepare. It uses traditional Indian spices that give the dish a complex depth of flavor. This recipe is the same one that owners of Electric Karma, Lucky and Pamma, have been preparing for years. This might be a Punjabi comfort food but this dish also has a large following in the United Kindom as its national dish. While usually served in a bowl by itself, prepare your favorite type of rice and use as a base for this flavorful bite.
---
Cook Tip: The chicken in this recipe is finished in the tandoor oven. A grill pan or outdoor grill can be used to grill the chicken in place of the tandoor oven.
---
Recipe Info
Season/Occasion:
Any Occasion
---
Directions
Recipe
Chicken Tiki Masala
Chop ginger, garlic and 3-4 sprigs of cilantro. Reserve half the garlic and ginger for the gravy. Season the boneless chicken with salt and then coat the garlic/ginger/cilantro mixture and marinate overnight. Once the chicken is marinated, chop and sauté the onion in the canola oil until browned. Add the chopped ginger and garlic to the pan and sauté until tender. Once sautéed, use a blender or small food processor to grind the onion/garlic/ginger mixture together. Put this back into the sauté pan with the water and tomato to make the gravy. Heat it to a simmer and add spices and salt to taste. Let this simmer for 15 minutes. Grill the marinated chicken and add this to the gravy. Sautee together until hot, and then add cream. Garnish with cilantro and enjoy!
Ingredients
1 lb. boneless chicken
1 each onion
2 oz. fresh ginger
2 oz. garlic
2 Tbsp. canola oil
1 each tomato
1/4 tsp. salt
1/2 C. water
1/2 tsp. coriander
1/2 tsp. cumin
1/2 tsp. tumeric
1/4 C. heavy cream
Copyright TableAgent.com
© Restaurant Agent Inc.
---
---