Kona Coffee Crusted Ahi Tuna (Yellowtail) Recipe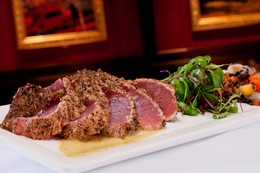 About: The Donovan's name has a long legacy with everything that is beef. However, at Donovan's Prime Seafood, they are branching out to give patrons the same quality cuts and service like how to do at its other locations. Here is one of Donovan's notable entrees, the Kona Coffee Crusted Ahi Tuna. Ahi tuna, also known as yellowfin tuna, is found in pelagic waters of tropical and subtropical oceans worldwide. In this dish the ahi tuna is coated with coffee spices then sear to rare. Simply and easy recipe, the Coffee Crusted Ahi Tuna is a great appetizer for any function.
---
Recipe Info
Meal Type:
Recipemealtype object (5)
Main Ingredient:
Recipemainingredient object (194)
Dish Type:
Recipedishtype object (4)
Cooking Method:
Recipemethod object (10)
Season/Occasion:
Recipeoccasion object (12)
Dificulty:
Recipedifficulty object (1)
---
Directions
Recipe
Coat the Ahi Tuna with the coffee spice, sear tuna to rare. Slice the carrots and onions. Sautee with butter and add lentils. Top the product with the micro salad and serve.
---
Recipe Note:
When coating the tuna, pat down the steaks with a paper towel and press firmly on each side into the coffee mixture. When searing the tuna, time how long you have left it on the grill and repeat for the other side to get an even cooking ring. The more you cook this amazing meat, the more flavor you will be cooking out of it. Again, served rare is the best for this fish, but cook it to your desired doneness.
Ingredients
8 oz. Yellowtail Tuna
1/2 oz. Kona Coffee Spice
2 oz. Beluga Lentils
2 each Carrots
3 each Cippolini Onions
1 oz. Micro Salad Mix
Copyright TableAgent.com
© Restaurant Agent Inc.
---
---