Maine Lobster Recipe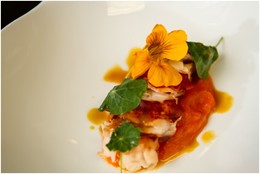 About: TWIST inside the Mandarin Oriental Hotel in Las Vegas is offering a fabulous recipe that utilizes poached lobster tail, perfumed with sweet wine, carrot cream, and orange reduction.
---
Recipe Info
Meal Type:
Recipemealtype object (5)
Main Ingredient:
Recipemainingredient object (92)
Dish Type:
Recipedishtype object (4)
Cooking Method:
Recipemethod object (16)
Season/Occasion:
Recipeoccasion object (8)
Dificulty:
Recipedifficulty object (3)
---
Directions
Recipe
To begin, take the orange juice and reduce to syrup. While the juice is reducing, peel the carrots and boil or steam them until they are fully cooked and very tender. Once the carrots are cooked and still hot, puree them in a blender with a little of the cooking liquid or water, some whole butter, and season with salt and pepper. Kill and clean the lobster. If using a fresh lobster, boil the lobster from two minutes in water seasoned with salt and vinegar. Remove the claws and boil for an additional two minutes. Remove all the meat from the shell and the digestive tract from the tail, the tail should still be near raw. Finish cooking the lobster by poaching it in clarified butter. If using frozen, fully thaw the lobster and poach in clarified butter to desired doneness. Season the lobster with sauterne wine, fleur de sel and pepper. To plate place the carrot puree on the bottom of the plate top with the lobster and garnish with the nasturtium leaves and flowers. Pour the lobster bisque over the plate when your guests are ready to dine.
Ingredients
- Maine lobster
- Whole and clarified butter
- Sauterne sweet wine
- Organic carrots
- Oranges
- Nastarium flower and leaves
- salt
- pepper
- Fleur de sel
- lobster bisque
Copyright TableAgent.com
© Restaurant Agent Inc.
---
---