Pearl Tempura Squash Blossoms with Organic Arugula and Strawberries Recipe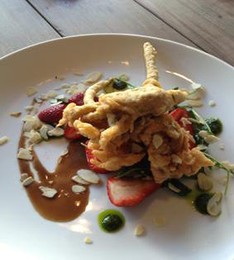 About: Restaurant at the Pearl has provided a sensational summer recipe that will refresh palates with fresh squash blossoms deep fried with tempura batter, and organic arugula and strawberries. This dish is a suitable candidate to be a great starter for brunch, lunch, or dinner, maybe outdoors while enjoying some sun? Simple and easy, Tempura Squash Blossoms with Organic Arugula and Strawberry will wow you and your guest's.
---
Recipe Info
Meal Type:
Recipemealtype object (3)
Main Ingredient:
Recipemainingredient object (146)
Dish Type:
Recipedishtype object (1)
Cooking Method:
Recipemethod object (13)
Season/Occasion:
Recipeoccasion object (8)
Dificulty:
Recipedifficulty object (1)
---
Directions
Filling for Piping Bag
Combine all filling ingredients except the blossoms in a bowl and mix until all ingredients are incorporated. Fill piping bag with this mixture and gill all 12 squash blossoms leaving enough room to twist the tops of each blossom to seal. Set aside.
Tempura
Mix the dry ingredients together first, then add wet ingredients except oil. Place battered squash blossoms in deep fryer or in a pan in which there is enough oil to cook both sides evenly. Cook until a light golden brown color with a bit of crisp is apparent on the squash. Place fried blossoms on paper towel to drain excess oil. Finish with a tossed organic arugula and strawberry medley and favorite dressing.
Ingredients
1/2 lb. cream cheese
5 oz. flour
2 Tbsp. goat cheese
5 oz. potato starch flour
2 Tbsp. herb de provence
1 egg (beaten)
1 tsp. parsley
1 1/2 C. sparkling water
1 tsp. thyme
1 pinch salt and pepper
12 squash blossoms
1 pinch salt
1 pinch pepper
Copyright TableAgent.com
© Restaurant Agent Inc.
---
---