Celery, Carrot, and Apple Soup Recipe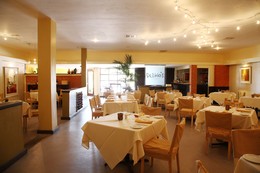 About: This simple soup allows the flavors of carrot and apple to shine. Made from easy-to-find ingredients, it is a cinch to whip up as part of a quick meal. It can be easily doubled or quadrupled for large parties.
---
Recipe Info
Meal Type:
Recipemealtype object (5)
Main Ingredient:
Recipemainingredient object (40)
Dish Type:
Recipedishtype object (2)
Cooking Method:
Recipemethod object (18)
Season/Occasion:
Recipeoccasion object (12)
Dificulty:
Recipedifficulty object (1)
---
Directions
Recipe
Dice carrot, celery, apple, and onion. Set apple aside. Heat oil over medium heat. Add carrot, celery, and onion and cook 2 minutes. Add butter and stir to melt. Add stock and cook for 10 minutes. Add
apple, tomato paste, bay leaf and sugar. Cook for 20 minutes longer. Remove bay leaf. Transfer soup to blender or using immersion blender, blend until smooth. Strain soup over fine sieve, keeping liquid and discarding any solids. Season with salt and pepper and serve hot.
Ingredients
14 oz. carrots
1 stick(s) celery
1 green apple
1/2 onion
1 Tbsp. olive oil
2 Tbsp. unsalted butter
2 C. chicken or vegetable stock
1 Tbsp. tomato paste
1 bay leaf
1 Tbsp. brown sugar
(to taste) salt & pepper
Copyright TableAgent.com
© Restaurant Agent Inc.
---
---