Dates Stuffed with Fresh Mozzarella Recipe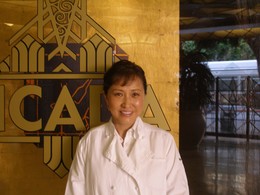 About: This hors d'oeuvre combines sweetness from the dates, creaminess from the fresh cheese, saltiness from the anchovy fillet and a nice kick from the ginger powder. There are many variations of this dish from wrapping the dates with bacon and stuffing them with blue cheese to deep frying them in tempura and filling them with goat cheese and pecans. These are easy to prepare and are great for parties and barbeques. Whatever flavor combination you like, spicy and sweet, sour and salty, there's an option for you.
---
Recipe Info
Meal Type:
Recipemealtype object (4)
Main Ingredient:
Recipemainingredient object (63)
Dish Type:
Recipedishtype object (1)
Cooking Method:
Recipemethod object (2)
Season/Occasion:
Recipeoccasion object (12)
Dificulty:
Recipedifficulty object (1)
---
Directions
Recipe
Combine the mozzarella, anchovy fillet, chives and ginger in a bowl until the mix becomes a doughy paste. Stuff the mixture into the dates and top with a small drop of the Mascarpone or sour cream. Sprinkle with lime or lemon zest.
Ingredients
1/2 C. fresh mozzarella
1 small anchovy fillet, mashed
1.5 tsp. fresh chives, chopped
1 pinch ginger powder
5 dried dates, de-pitted and halved
1 Tbsp. Mascarpone or sour cream
1 Tbsp. lime or lemon zest
Copyright TableAgent.com
© Restaurant Agent Inc.
---
---