Pan Seared Salmon with Yogurt Salsa Recipe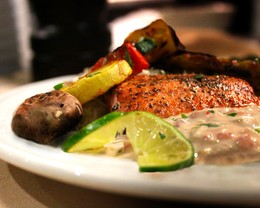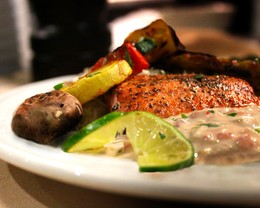 About: A favorite of Meze Mediterranean Grill, this dish's signature Yogurt Salsa separates it from other run of the mill Pan Seared Salmon fillets. The mild Yogurt Salsa, which takes a full day to prepare properly, accents the fish with aplomb. The Yogurt Salsa offers a mild tang, with subtle tones present from the jalapeño, tomato, onion, and cucumber. The complexity of the sauce elevates this straightforward dish to a whole new level of flavor.
---
Recipe Info
Meal Type:
Recipemealtype object (5)
Main Ingredient:
Recipemainingredient object (186)
Dish Type:
Recipedishtype object (4)
Cooking Method:
Recipemethod object (15)
Season/Occasion:
Recipeoccasion object (12)
Dificulty:
Recipedifficulty object (2)
---
Directions
Yogurt Salsa
Grill 1 Jalapeno and 1 tomato, Peel skin from tomato, chop and and mix into bowl
Chop fine - 1 fresh tomato, 1/2 red onion, and 1 Persian cucumber
add to to bowl.
add 3 cups yogurt
mix
add salt and pepper to taste
store in fridge over night
---
Yogurt Salsa Note:
Pan Seared Salmon
Season Salmon with salt and pepper and pan sear
Ingredients
1 each Jalapeno
1 each Fresh Salmon Fillet
1 each Tomato
1/2 each Red Onion
1 each Persian Cucumber
3 C. Plain Yogurt
Copyright TableAgent.com
© Restaurant Agent Inc.
---
---