Chocolate Five Spice Indulgence Recipe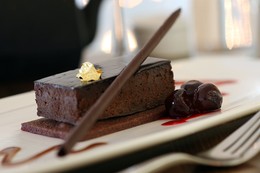 About: Sleek in presentation and stunning in flavor, this decadent dessert is sure to wow anyone you serve. Inspired by the flavors of Asian cuisine, the chocolate dessert incorporates five-spice powder, lending a spicy, savory dimension to an otherwise sweet cake.
---
Recipe Info
Meal Type:
Recipemealtype object (6)
Main Ingredient:
Recipemainingredient object (49)
Dish Type:
Recipedishtype object (9)
Cooking Method:
Recipemethod object (1)
Season/Occasion:
Recipeoccasion object (12)
Dificulty:
Recipedifficulty object (2)
---
Directions
Chocolate Five Spice Indulgence
Heat water, sugar, and five spice powder. Simmer 5 minutes. Melt butter and chocolate. Pour water and sugar mixture into chocolate mixture and mix until combined. Add eggs and whisk until blended. Pour intoan 8x8-inch pan and bake at 350 degrees in water bath until center is set.
To serve: Cut into desired serving pieces. Roll out Chocolate Sugar Dough to 1/4" thick and cut serving pieces to matching size. Place five spice pieces over dough and bake for 7 minutes at 350 degrees. Plate and drizzle with Milk Chocolate Lime Sauce.
Chocolate Sugar Dough
Combine all ingredients in mixing bowl until mixture becomes dough.
Milk Chocolate Lime Sauce
Heat cream, lime zest, sugar, and vanilla bean. Reduce by 1/3. Pour over milk chocolate. Stir to melt. Strain through chinois.
Ingredients
1 C. water
500 mL heavy cream (36%)
4 oz. granulated sugar
3/4 C. granulated sugar
3 each limes, zest of
8 oz. butter
11 oz. all purpose flour
2 1/2 Tbsp. five spice powder
50 g granulated sugar
1 oz. eggs
4 1/2 oz. butter
2 each vanilla beans
1 lb. chocolate
1 pinch salt
150 g milk chocolate
6 each eggs
2 oz. cocoa powder
1 recipe Chocolate Sugar Dough
1 recipe Milk Chocolate Lime Sauce
Copyright TableAgent.com
© Restaurant Agent Inc.
---
---