Sticky Toffee Pudding Recipe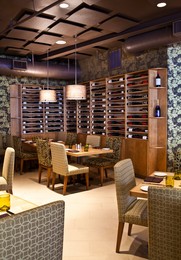 About: Time to treat your palate with something sweet - Sticky Toffee Pudding. Executive Chef Jason Colabove has constructed a worthwhile dessert that consist of toffee notes and dates. Serve this dessert after a mouth-watering meat dish for dinner and pair it with a side of vanilla ice cream complement the sweetness from the toffee pudding.
---
Recipe Info
Meal Type:
Recipemealtype object (6)
Main Ingredient:
Recipemainingredient object (63)
Dish Type:
Recipedishtype object (9)
Cooking Method:
Recipemethod object (1)
Season/Occasion:
Recipeoccasion object (12)
Dificulty:
Recipedifficulty object (2)
---
Directions
Recipe
Preheat oven to 350 degrees. Butter baking dishes. Sift the flour and baking powder onto a sheet of waxed paper. Chop the dates fine and place in a small bowl with boiling water and baking soda; set it aside. In a bowl or electric mixer, beat the butter and sugar until light and fluffy. Add the egg and vanilla and beat until blended. Gradually beat in the flour mixture. Add the date mixture to the batter and fold until blended with a rubber spatula. Pour into the prepared baking dish. Bake until pudding is set and firm on top. Remove from oven to a wire rack.
Toffee Sauce: Combine the butter, cream and brown sugar in a small saucepan; heat to boiling while consistently stiring. Boil gently over medium low heat until mixture is thickened, about 8 minutes.
---
Recipe Note:
When buttering the baking dishes, use it at room temperature and feel free to microwave it to a soft but not yet melted consistency. Add a little nutmeg or cinnamon to the flour mixture to give this great bread pudding a lightly kicked up flavor. The sauce ingredients begin at 1 cup of butter.
Ingredients
2 C. All-Purpose Flour
2 tsp. All-Purpose Flour
1.5 C. Dates, pitted and chopped
2.5 C. Boiling Water
2 tsp. Baking Soda
0.5 C. Unsalted Butter, softened
1.5 C. Sugar
2 each Large Eggs, lightly beaten
2 tsp. Vanilla
1 C. Butter
1 C. Heavy Cream
2 C. Dark Brown Sugar, packed
Copyright TableAgent.com
© Restaurant Agent Inc.
---
---