Chopped Salad Recipe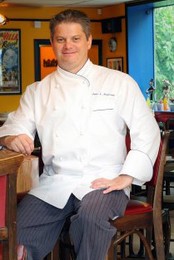 About: The Chopped Salad has been a house favorite at the Solaris Grille for years. Awarded the coveted "Best of Philly" Award for salads in 2000, the salad is a typical any-time-of-day healthy favorite. It has become popular lunchtime fare. However, in the evening, it's a great starter before any of the Soalris Grille's delicious grilled dishes. John Anderson's well-conceived Chopped Salad balances the crunch of asparagus, cucumber, and snap peas with the unctuous taste of avocado and kitchen-roasted red pepper. Chopped bacon and crumbled bleu cheese add lusty undertones to a dish that finds a winsome pairing with your favorite Shiraz.
---
Recipe Info
Meal Type:
Recipemealtype object (3)
Main Ingredient:
Recipemainingredient object (62)
Dish Type:
Recipedishtype object (3)
Cooking Method:
Recipemethod object (14)
Season/Occasion:
Recipeoccasion object (12)
Dificulty:
Recipedifficulty object (1)
---
Directions
Recipe
Mix all ingredients, salt and pepper to taste.
Ingredients
4 oz. diced asparagus
4 oz. sugar snap peas
4 oz. diced cucumber
4 oz. diced avocado
2 oz. roasted red pepper
2 Tbsp. chopped bacon
3 Tbsp. crumbled bleu cheese
2 oz. balsamic vinaigrette
to taste, salt and pepper
Copyright TableAgent.com
© Restaurant Agent Inc.
---
---