White Truffle Mac & Cheese Recipe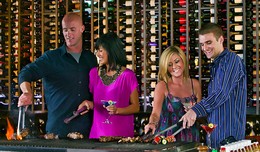 About: While the White Truffle Mac and Cheese is a mere side dish at the Gaslamp Strip Club--where steaks take center stage--the dish can certainly hold its own as a main course. Rich and creamy, with the unmistakable aroma of truffles, this decadent creation is a surprisingly easy dish to prepare.
---
Cook Tip: This recipe starts with cooked pasta--make sure to plan enough time to cook the pasta before combining the ingredients. Cook the pasta in salted water so the noodles absorb the seasoning. If you enjoy cheese, you can substitute your favorite (within reason) cheese into this recipe. Some things to take into consideration are if the cheese melts well, if the cheese coagulates after it's melted and goes back to a hard or firmer state. High cream contents usually yield a creamy cheese mixture. Goat cheese and a creamy white cheddar or even sharp cheddar is great for Mac and cheese.
---
Recipe Info
Meal Type:
Recipemealtype object (5)
Main Ingredient:
Recipemainingredient object (113)
Dish Type:
Recipedishtype object (4)
Cooking Method:
Recipemethod object (12)
Season/Occasion:
Recipeoccasion object (12)
Dificulty:
Recipedifficulty object (1)
---
Directions
Recipe
Preheat the broiler. Add butter to a saucepan over medium-high heat. Saute onions and garlic until they turn slightly brown. Add flour and whisk together for 3 minutes to make a blonde roux. Whisk in milk and bring to a boil, stirring constantly to prevent the roux from burning. Cook for approximately 10 minutes or until the roux has dissolved completely and you can no longer taste the flour. Add pasta and stir until hot. Add fresh herbs, truffle oil, and half of the Parmesan and stir until dissolved. Season, to taste, with salt and pepper. Put all ingredients into an ovenproof dish and sprinkle the remaining cheese and bread crumbs on top evenly. Place under a broiler until top becomes golden brown.
Ingredients
1/2 C. Butter
1/2 C. Chopped red onion
1/2 C. Chopped garlic
1/2 C. All purpose flour
2 C. Whole milk
1 1/2 C. Cooked cavatappi pasta
2 Tbsp. Plus 2 teaspoons chopped fresh rosemary
2 Tbsp. Plus 2 teaspoons chopped fresh thyme
2 Tbsp. Plus 2 teaspoons chopped fresh basil
1/4 C. Infused white truffle oil
1 1/2 C. Grated Parmesan
1/4 C. Japanese bread crumbs(panko)
To Taste Salt and freshly ground black pepper
Copyright TableAgent.com
© Restaurant Agent Inc.
---
---