Salmon Mugnier Recipe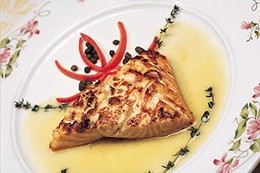 About: This family recipe, courtesy of Chef Gino Sena, is a classic example of the simple yet elegant northern Italian fare served at La Famiglia. The philosophy behind such straightforward yet delicious fare is that the fresh, quality ingredients should showcase themselves. The fish and the use of lemon and olive oil prove staples of the Mediterranean diet, while the addition of butter adds a bit of dining opulence, making it an extraordinary dish that is still practical for making and enjoying at home. Because this recipe can just as easily be made for one or for five people, use it for effortless yet impressive entertaining, or just to entertain yourself.
---
Recipe Info
Meal Type:
Recipemealtype object (5)
Main Ingredient:
Recipemainingredient object (186)
Dish Type:
Recipedishtype object (4)
Cooking Method:
Recipemethod object (16)
Season/Occasion:
Recipeoccasion object (12)
Dificulty:
Recipedifficulty object (1)
---
Directions
Recipe
Poach salmon in water for 15 minutes until light pink. Once salmon is poached set aside with the lid on to keep warm and flavorful. Using a non-stick pan, add butter and melt at a low heat. Add white wine, let simmer for 10 minutes. Let the two amalgamate then add capers, tomato, parsley and lemon juice. Let everything simmer for 4 minutes, until the sauce is nice and thick. Once the sauce is ready remove from heat. Spoon over the top of salmon and garnish with lemon thyme.
Ingredients
6 to 8 oz. salmon per person
8 oz. white wine
5 oz. butter
1 tsp. capers
1 fresh tomato, julienned
1 oz. fresh parsley
2 tsp. fresh lemon juice
3 sprigs lemon thyme
Copyright TableAgent.com
© Restaurant Agent Inc.
---
---