Tortilla Española Recipe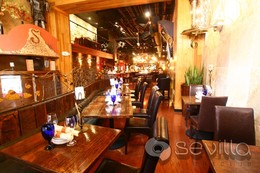 About: Tortilla Española is perhaps the quintessential Spanish tapa. The simple combination of eggs and potatoes is surprisingly satisfying. Cafe Sevilla's version is garnished with marinated mushrooms, chives, and roasted red peppers, giving the dish a festive presentation.
---
Cook Tip: If you don't have a deep frier, potatoes can be pan fried.
---
Recipe Info
Prep Time:
1 hour(s) 20 minutes
Meal Type:
Recipemealtype object (5)
Main Ingredient:
Recipemainingredient object (128)
Dish Type:
Recipedishtype object (1)
Cooking Method:
Recipemethod object (1)
Season/Occasion:
Recipeoccasion object (12)
Dificulty:
Recipedifficulty object (2)
---
Directions
Recipe
Preheat oven to 250 degrees F and deep frier to 350 degrees F. Saute onions and 1/4 cup olive oil until onions start to brown. Do not caramelize. Dip fry potatoes enough to crystallize. Transfer potatoes and onions to mixing bowl. Add eggs to bowl, season with salt and pepper. Heat a saute pan over meduim high heat until very hot (to avoid mixture sticking to pan). Add remaining olive oil then egg mixture and turn until pan cools down. Transfer to oven. Back for 45-55 minutes until eggs are set. To serve, turn tortilla over to a plate and let sit for 10-15 minutes before slicing. Garnish with chives, roasted red pepper, and marinated mushrooms and serve with toothpicks.
Ingredients
3 each 90-count potatoes, peeled, quartered, and sliced
1 each large yellow onion, julienned
2 C. liquid eggs
1/2 C. olive oil
1 tsp. kosher salt
1/2 tsp. ground black pepper
1 pinch chopped fresh chives
1 pinch chopped roasted red pepper
4-5 each marinated mushrooms
Copyright TableAgent.com
© Restaurant Agent Inc.
---
---