Ahi Tuna Roll Recipe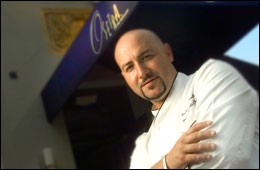 About: Osetra's Corporate Executive Chef, Alberto Morreale, is a master at preparing different types of seafood from around the world. Here, he offers a recipe for one of his most popular recipes in is repertoire: the Ahi Tuna Roll. Ahi tuna, as known as yellowfin tuna, is a species found in pelagic waters of tropical and subtropical oceans worldwide. A popular replacement for the severely depleted supplies of southern bluefine tuna, ahi tuna is a go-to choice for most sushi creations like for this recipe.
---
Recipe Info
Meal Type:
Recipemealtype object (5)
Main Ingredient:
Recipemainingredient object (194)
Dish Type:
Recipedishtype object (1)
Cooking Method:
Recipemethod object (15)
Season/Occasion:
Recipeoccasion object (12)
Dificulty:
Recipedifficulty object (1)
---
Directions
Ahi Tuna Roll
Cut ahi tuna loin into 4"x2" pieces. Season with salt and pepper. Wrap tuna pieces with spinach leaves and Asian rice paper. Pan sear in vegetable oil until outside of roll is golden brown (ahi must remain raw). Cut roll lengthwise at a 45-degree angle. Drizzle with soy reduction sauce and serve with steamed Chinese green beans and a garnish of wasabi.
Ingredients
8 oz. sashimi grade ahi tuna loin
16 baby spinach leaves, washed, stems removed
4-6 sheets Asian rice paper
2 oz. soy reduction sauce
3-4 oz. Chinese green beans (approx 1 1/2 cups)
1 oz. wasabi
Copyright TableAgent.com
© Restaurant Agent Inc.
---
---