Cajun Seared Lamb Chops Recipe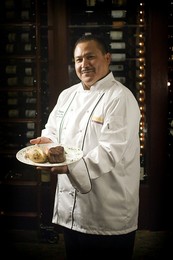 About: At Donovan's Steak and Chop House, the emphasis, is of course, on the steak. Yet while Executive Chef Sal Reynoso takes steak and potatoes seriously, he also has fun with other items on Donovan's menu. His Cajun Seared Lamb Chops, for example, combine feisty Cajun flavors with cool ranch dressing. The dish is served as an appetizer at the restuarant, but makes a hearty main course at home. It is easy to prepare and is sure to please.
---
Recipe Info
Meal Type:
Recipemealtype object (5)
Main Ingredient:
Recipemainingredient object (85)
Dish Type:
Recipedishtype object (4)
Cooking Method:
Recipemethod object (15)
Season/Occasion:
Recipeoccasion object (12)
Dificulty:
Recipedifficulty object (2)
---
Directions
Recipe
Pre-bake potatoes to approximately 75% doneness. Cool potatoes, cut off both ends and set potatoes upright. Scoop out a hollow from one side to make a cup for dipping sauce. Set aside. Cut lamb chops apart between ribs, so each piece is approximately 3 oz. Dust both sides of chops with Cajun seasoning and set aside. Shred cabbage and lightly pre-cook in a saute pan over medium heat with 1 Tbsp. olive oil and a pinch of salt. Remove pan from heat. Chop fresh thyme and combine thyme and ranch dressing. Set aside.
Heat a large saute pan over medium high heat. Add half of remaining olive oil and sear lamb chops to desired doneness. Meanwhile, heat potatoes in oven approximately 5 minutes and re-heat cabbage in saute pan for approximately 2 minutes. To serve, place one potato on each of 4 plates at 12 o'clock, hollowed side up. Divide cabbage into 4 portions and place on base of each plate. Pour ranch thyme mixture into hollowed potatoes. Arrange 4 lamb chops on each plate, arrayed from 3 o'clock to 9 o'clock. Serve immediately.
---
Recipe Note:
When getting racks of lamb, you should speak to your butcher about cleaning them up for you. And by cleaning them up, that just means taking the fat cap off the bones and making them look like clean, meaty lolli-pops. You can do this yourself with a very sharp boning knife by cutting the fat off the top of the rack, then cutting the fat off between the bones and then cutting off the silver skin and remaining fat.
Ingredients
4 each large idaho potatoes
3 lb. lamb racks, cap off (approx. 3 racks)
2 oz. Cajun seasoning
1/2 head red cabbage
1 tsp. fresh thyme, chopped
1 C. ranch dressing
1 C. pomace olive oil
1 oz. salt
Copyright TableAgent.com
© Restaurant Agent Inc.
---
---