Crispy Brussels Sprouts Recipe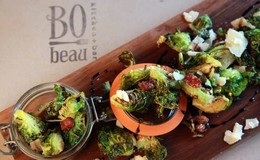 About: As Bo'Beau's most sought after appetizer, the Crispy Brussels Sprouts showcases Executive Chef Katherine Humphus' innovative culinary vision. A surprisingly easy recipe, the Crispy Brussels Sprouts uses minimal ingredients that creates an exceptional and satisfying treat.
---
Recipe Info
Meal Type:
Recipemealtype object (4)
Main Ingredient:
Recipemainingredient object (34)
Dish Type:
Recipedishtype object (1)
Cooking Method:
Recipemethod object (6)
Season/Occasion:
Recipeoccasion object (12)
Dificulty:
Recipedifficulty object (1)
---
Directions
Crispy Brussels Sprouts & Balsamic-Port Reduction
Cut pancetta into medium-sized dice dice and crisp up in a pan on stove top on high heat. Drain grease and reserve.
Fill a saute pan with two inches of vegetable oil and heat to 375 degrees. Fry brussels sprouts for 30 seconds. Remove with slotted spoon to mixing bowl. Toss with pancetta, salt and pepper.
Plate with balsamic-port reduction (recipe below) drizzled on top and the shaved parmesan.
Balsamic-Port Reduction:
Place balsamic vinegar and port wine in small saucepan and reduce over medium heat for about 15 minutes until it thickens to the consistency of maple syrup.
Ingredients
1 C. Brussels Sprouts, trimmed and quartered
1 C. Vegetable Oil
1 Tbsp. Pancetta, diced
1 Tbsp. Parnesan, shaved
1 C. Balsamic Vinegar
1 C. Port Wine
Copyright TableAgent.com
© Restaurant Agent Inc.
---
---