Farfalle Al Portobello Recipe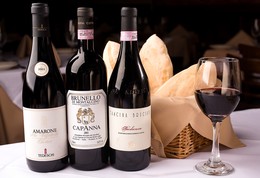 About: The Farfalle al Portobello is just one of many creative pasta dishes Executive Chef Francesco Basile offers at his La Mesa restaurant, Antica Trattoria. A harmonious combination of portobello mushrooms, sundried tomatoes, and asparagus is complimented by a simple yet rich brandy cream sauce. While this dish calls for portobello mushrooms, sundried tomatoes and asparagus, feel free to substitute the fresh seasonal ingredients available to you at the time. Getting a taste of what tastes great at the time is the most important ingredient in any recipe. Try and pair this dish with a favorite white wine for a great food and drink experience.
---
Recipe Info
Meal Type:
Recipemealtype object (5)
Main Ingredient:
Recipemainingredient object (113)
Dish Type:
Recipedishtype object (4)
Cooking Method:
Recipemethod object (6)
Season/Occasion:
Recipeoccasion object (12)
Dificulty:
Recipedifficulty object (1)
---
Directions
Recipe
Bring a large pot of salted water to boil. Add farfalle and cook according to package directions. Drain pasta and set aside.
Meanwhile, heat butter in skillet over medium heat. Add onions and garlic and saute until onions become translucent. Add mushrooms, asparagus, and sundried tomatoes and cook, stirring occasionally, until mushrooms and asparagus are cooked through. Carefully add brandy to pan and stir vigorously to deglaze. Adjust with salt and pepper, add basil, and finish with cream.
Spoon sauce over cooked pasta and stir to incorporate. Serve warm.
Ingredients
2 C. farfalle (bow tie pasta), uncooked
1 tsp. butter
1 tsp. diced white onion
1 tsp. minced garlic
1/2 portobello mushroom, sliced thin
3 spears asparagus
2 Tbsp. sundried tomatoes
1/4 fl. oz. brandy
to taste, salt and pepper
2 tsp. shredded basil
1/4 fl. oz. cream
Copyright TableAgent.com
© Restaurant Agent Inc.
---
---