Line Caught Mediterranean Loup De Mer & Prawns Recipe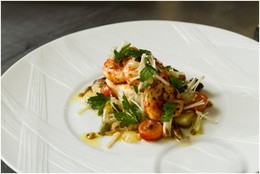 About: TWIST inside the Mandarin Oriental Hotel at Las Vegas is offering a unique recipe that utilizes Mediterranean Loup de Mar and Santa Barbara prawns.
---
Recipe Info
Meal Type:
Recipemealtype object (5)
Main Ingredient:
Recipemainingredient object (187)
Dish Type:
Recipedishtype object (4)
Cooking Method:
Recipemethod object (15)
Season/Occasion:
Recipeoccasion object (8)
Dificulty:
Recipedifficulty object (3)
---
Directions
Recipe
To start, marinate the Loup du mer with a mixture of extra virgin olive oil and Vaduvan spice for an hour before serving. Take the baby artichokes quarter them and sauté with olive oil. When the artichokes begin to brown add the sliced pearl onions and garlic and continue to sauté until soft and fragrant. Next, add the cherry tomatoes and deglaze with a little white wine and reduce. Once the wine has reduced, add the chicken stock and season with salt and pepper and reserve. Remove the Loup du mer from the spice oil. In a hot pan with clarified butter, sear the fish skin side down until crispy. Place the fish into warm clarified butter that had been infused with Vaduvan spice once the skin is crisp to complete the cooking. Season and grill the prawns. Take the Enoki mushrooms, lemon segments and parley and season with salt, pepper and Vaduvan oil. To plate, spoon the warm artichoke sauce on the bottom of the plate and place the fish and prawn in the center of the sauce, finally, top with the Enoki salad.
Ingredients
- Loup de Mer
- Vadouvan mix spice
- olive oil
- butter
- Prawns
- Baby artichoke
- Garlic
- Pearl onion
- cherry tomatoes
- white wine
- chicken stock
- Enoki mushrooms
- lemon
- micro parsley
- salt
- pepper
- Fleur de sel
Copyright TableAgent.com
© Restaurant Agent Inc.
---
---