Mongolian Lamb Chops Recipe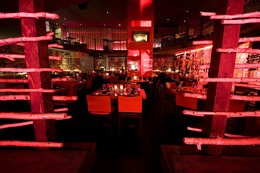 About: While Geisha House is known for sushi and seafood dishes, this simple crowd pleaser proves that the restaurant also takes its land-based dishes seriously. A trio of well seasoned chops comes with a cucumber salad drizzled with creamy sesame dressing. Yakiniku means grilled meat in Japanese. The traditional sauce consists of Japanese soy sauce, sake, mirin, sugar, garlic, fruit juice and sesame. Shallots and miso-based sauces go well with this dish too. You can substitute Mae Ploy Sweet Chili Sauce or even Hoisin sauce if desired.
---
Recipe Info
Meal Type:
Recipemealtype object (5)
Main Ingredient:
Recipemainingredient object (85)
Dish Type:
Recipedishtype object (4)
Cooking Method:
Recipemethod object (3)
Season/Occasion:
Recipeoccasion object (12)
Dificulty:
Recipedifficulty object (2)
---
Directions
Grilled Lamb Chops
Prepare lamb chops by trimming excess fat. Sprinkle salt, pepper, and garlic powder on both sides. Pre-heat grill or pan and and drizzle oil onto cooking surface. Cook chops for for 4 minutes per side, or until desired doneness. Remove from heat and brush each side of meat with Yakiniku sauce.
To serve, place lamb chops atop cucumber salad and serve with a side of Yakiniku sauce.
---
Grilled Lamb Chops Note:
Look for Yakiniku Sauce and Creamy Sesame Dressing at your local Asian market.
Cucumber Salad
Wash cucumber well. Slice cucumber lengthways in half and discard seeds. Using a sharp knife, slice the cucumber thinly. Arrange the cucumber slices on serving plate and top with creamy sesame dressing and sesame seeds.
Ingredients
6 fresh French-cut lamb chops
1 hot house cucumber
1/2 Tbsp. salt
1 tsp. sesame seeds
1/2 Tbsp. ground black pepper
1 oz. creamy sesame dressing
1/4 Tbsp. garlic powder
1 Tbsp. olive oil
1 oz. Yakiniku sauce
1 recipe Cucumber Salad (below)
Copyright TableAgent.com
© Restaurant Agent Inc.
---
---