Salsa Verde Recipe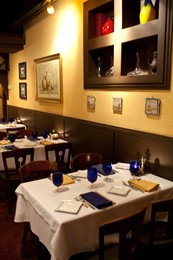 About: Trattoria Ponte Vecchio offers a robust selection of traditional Italian fare, and Owner Daniel Nobili has brought one of his homeland favorites to you. Salsa Verde is a refreshing Italian sauce that utilizes fresh herbs and spices. Quick and easy, Salsa Verde is ideal to serve with meat or fish on any occasion.
---
Recipe Info
Meal Type:
Recipemealtype object (5)
Main Ingredient:
Recipemainingredient object (171)
Dish Type:
Recipedishtype object (7)
Cooking Method:
Recipemethod object (2)
Season/Occasion:
Recipeoccasion object (12)
Dificulty:
Recipedifficulty object (1)
---
Directions
Recipe
Combine all ingredients in a food processor and serve with meat or fish.
---
Recipe Note:
A blender can be substituted if a food processor is not available.
Ingredients
1 Garlic Clove
30 g Italian Parsley
10 g Fresh Mint
4 Anchovies
1 tsp. Dijon Mustard
20 g Pickles
50 g Capers
2 tsp. Vinegar
120 mL Extra Virgin Olive Oil
0 Salt and Pepper to Taste
Copyright TableAgent.com
© Restaurant Agent Inc.
---
---