Steamed Manila Clams In Broth Recipe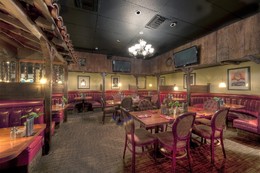 About: The Steamed Manila Clams, created by Bully's East Head Chef Luis Martinez, offers a savory and salty combination that's complemented by garlic and sweet cherry tomatoes. Manila clams, species name venerupis phillippinarum, are extreme common amongst the Pacific coast, and is a highly prized item among seafood lovers. Most chefs utilize manila clams in pasta or soups. However, Chef Martinez has created a dish that has the manila clams taking center stage. Steamed to perfection, the manila clams are then paired with his house broth that complements the sweet and saltiness of the clams. Serve in a bowl with a side of garlic bread, this dish is a great opening act for lunch or dinner.
---
Recipe Info
Meal Type:
Recipemealtype object (5)
Main Ingredient:
Recipemainingredient object (51)
Dish Type:
Recipedishtype object (4)
Cooking Method:
Recipemethod object (8)
Season/Occasion:
Recipeoccasion object (12)
Dificulty:
Recipedifficulty object (2)
---
Directions
Recipe
1. Place butter in large bowl until it becomes room temperature. Beat butter in electric mixer until it becomes fluffy and white.
2. In a medium sauce pot, add the whipped butter, minced shallots, minced garlic and Manila Clams until the butter melts completely.
3. Add White Wine and cover with a lid. Steam over high heat until the steam starts to come out of the pot.
4. Remove lid and add the tomatoes and the rest of the herbs. Season as needed.
5. Serve in a bowl with a side of garlic bread.
Ingredients
4 fl. oz. Whipped Butter
1 Tbsp. Shallots, minced
1 tsp. Garlic, minced
1 lb. Manila Clams
1/2 C. White Wine
3/4 C. Water
2 Thyme Sprigs
1/2 tsp. Basil, minced
1/2 tsp. Parsley, minced
4-5 each Cherry Tomatoes, halved
If needed a dash of pepper
If needed a dash of salt
1 pinch Red Pepper Flakes
Copyright TableAgent.com
© Restaurant Agent Inc.
---
---