Champagne-Poached Peaches with Fresh Berries and Creme Anglaise Recipe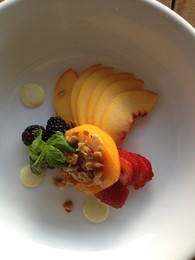 About: The summer season does not only bring San Diegans great weather and long days, but it also brings a craving for something light and rejuvenating while soaking in some rays under the radiant sun. Restaurant at the Pearl's Sous Chef Jonny Tran and Bar Manager Emily Arney has created a simple yet classic summer recipes that utilize a medley of refreshing fruits, such as peaches, blackberries, raspberries, strawberries and blueberries. Champagne-Poached Peaches with Fresh Berries and Creme Anglaise is a satisfying treat that pairs well with the summer season and is ideal for a appetizer or dessert (add ice cream to intensify the experience) or appetizer dish for brunch, lunch or dinner.
---
Recipe Info
Meal Type:
Recipemealtype object (3)
Main Ingredient:
Recipemainingredient object (114)
Dish Type:
Recipedishtype object (1)
Cooking Method:
Recipemethod object (11)
Season/Occasion:
Recipeoccasion object (8)
Dificulty:
Recipedifficulty object (2)
---
Directions
Recipe
Peel and half two of the peaches, immerse in two cups of champagne with stick of cinnamon and 1/2 cup of sugar. Bring to a boil and then turn down the heat to a slow simmer for about 15 minutes until peaches are soft. Remove peaches and cinnamon stick, keep simmering the liquid until it thickens to a light syrup. Put peachs back in syrup and chill for 2 hours.
Creme Anglaise
Combine milk and cream in heavy medium saucepan. Scrape in seeds from vanilla bean; add beam. Bring milk mixture to simmer. Remove from heat.
Whisk egg yolks and sugar in medium bowl to blend. Gradually whisk hot milk mixture into yolk mixture. Return custard to sauecpan. Stir over low heat until custard thickens and leaves path on back of spoon when finger is drawn across, about 5 minutes (do not boil.) Strain sauce into bowl. Cover and chill for 2 hours.
Ingredients
4 Peaches
1/2 C. Whole Milk
1 Varied seasonal berries
1/2 C. Whipping cream
1 Bottle of Champagne
1 Vanilla bean, split
1 Cinnamon stick
3 Eggs
1 Mint
3 Tbsp. Sugar
1 Granola
1/2 C. Sugar
Copyright TableAgent.com
© Restaurant Agent Inc.
---
---