Seafood Newburg Recipe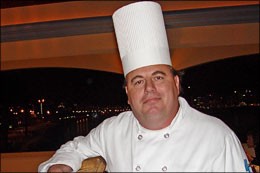 About: Throughout time, chefs around the world have concerned themselves with making good things even better. Although it's hard to improve on the flavors of fresh seafood treats like shrimp, lobster, and scallops, here is a taste-tempting recipe that is bound to excite the gourmet palate.
---
Recipe Info
Meal Type:
Recipemealtype object (5)
Main Ingredient:
Recipemainingredient object (92)
Dish Type:
Recipedishtype object (4)
Cooking Method:
Recipemethod object (18)
Season/Occasion:
Recipeoccasion object (12)
Dificulty:
Recipedifficulty object (2)
---
Directions
Recipe
Peel and devein shrimp. Reserve shells. Clean scallops, lobster meat, and fish. Heat olive oil in a large saucepan, add the cleaned seafood mixture and sauté until seafood is barely opaque. Remove seafood and set aside. Pour white wine into saucepan and cook briskly, scraping the base of the pan to remove seafood remnants. Cook until liquid is reduced by half. Add double cream and sherry and season with nutmeg, cayenne pepper, salt and freshly ground pepper. Add shrimp shells to the pan and cook for 8 minutes, then remove shells and discard.
In another heavy-based saucepan, melt butter and whisk in flour until smooth. Beat together single cream and egg yolks over a medium heat, and add gradually to flour and butter mixture, stirring until thickened. Pour cream mixture into the sauce and simmer for 15 minutes. Return seafood mixture to the pan to warm through.

To serve, place the seafood mixture into individual ramekins, pour over the creamy sauce and serve along with steamed rice and a lightly steamed vegetable.
Ingredients
4 oz. U-12 shrimp
4 oz. scallops
4 oz. lobster meat
4 oz. sea bass or swordfish filet, cubed
3 Tbsp. olive oil
1 C. dry white wine
2 C. heavy cream
1/3 C. sherry
1 pinch grated nutmeg
1 pinch cayenne
1 pinch salt and fresh ground black pepper
10 g butter
1 Tbsp. plain flour
50 mL single cream
2 egg yolks, beaten
Copyright TableAgent.com
© Restaurant Agent Inc.
---
---