Seared Ginger-Stuffed Northern Halibut Recipe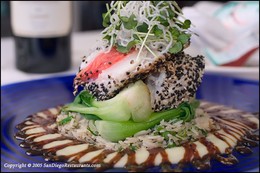 About: This pan-seared halibut dish from Cafe Pacifica is infused with Asian-influenced flavor. The fish itself is stuffed with marinated ginger, then served alongside sesame rice and wasabi-key lime sauce. Spice up any meal with the unique, well integrated flavors of Chef Eddie Zamarripa's dish.
---
Cook Tip: Spice up this dish with sauteed Asian vegetables, such as baby bok choy, and micro greens, as pictured here
---
Recipe Info
Meal Type:
Recipemealtype object (5)
Main Ingredient:
Recipemainingredient object (178)
Dish Type:
Recipedishtype object (4)
Cooking Method:
Recipemethod object (15)
Season/Occasion:
Recipeoccasion object (12)
Dificulty:
Recipedifficulty object (2)
---
Directions
Wasabi-Lime Sauce
Add all ingredients to blender and blend until smooth.
Halibut
Take one halibut filet and carefully make incision length-wise alongside longest side filet. Take care to ensure that you are making a pocket and not slicing through to the other side of filet. Stuff filet with 2 oz. of marinated ginger. Repeat with other filets.
Place sesame seeds on small plate. Coat halibut filets on both sides by pressing into sesame seeds. Heat olive oil in large sauté pan over medium-high heat until hot but not smoking. Add filets to pan. Cook until edge turns a golden color, then turn over and cook opposite side the same. The middle of each filet should have a slightly opaque appearance when done. Take fish out of sauté pan but keep pan on low heat to prepare rice (see recipe). Slice each seared filet at a 45° angle down the center with a very sharp knife, to reveal the ginger stuffing.
To serve, coat base of each plate with sauce, and place ½ cup cilantro sesame rice in center of plate atop sauce. Place both halves of Halibut filet atop the rice. Garnish with a sprig of cilantro.
Cilantro Sesame Rice
Prepare rice in same saute pan as was used for halibut. Once halibut is removed, add sesame oil to pan. This oil has a low burning point so do not let it get too hot. Add pre-cooked cold rice, cilantro, and scallions. Sauté until heated thoroughly. Turn heat off; keep rice in sauté pan until ready to serve.
Ingredients
4 7-oz. filets of northern halibut
1/3 C. honey
1 Tbsp. sesame oil
8 oz. marinated ginger
1/2 shallot, peeled
2 C. cooked white rice
3/4 C. sesame seeds
1/2 C. wasabi powder
1/4 bunch(es) Cilantro
2 Tbsp. olive oil
1/4 C. key lime juice
1/2 C. Scallions
1 1/2 C. vegetable oil
1/2 C. rice vinegar
1/4 C. water
Copyright TableAgent.com
© Restaurant Agent Inc.
---
---