Shrimp Ajillo Recipe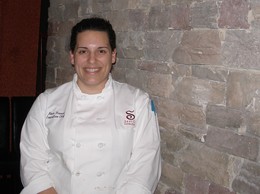 About: Executive Chef Nora Ramos prepares this classic Spanish tapa nightly at Cafe Sevilla Long Beach. She marinates the raw shrimp prior to cooking them, but unmarinated shrimp will work at home. There are numerous versions of this recipe and only your imagination will limit this dish. Substitute Spanish chorizo for chili de arbol if you'd like the color and less of the spice. You can serve this over a bed of rice or pair with a dry white wine as well.
---
Cook Tip: This recipe is for one tapas-sized portion, but can easily be increased to accommodate any number of guests. Simply multiply the ingredients by the number of guests for a quick and easy appetizer.
---
Recipe Info
Meal Type:
Recipemealtype object (5)
Main Ingredient:
Recipemainingredient object (140)
Dish Type:
Recipedishtype object (1)
Cooking Method:
Recipemethod object (6)
Season/Occasion:
Recipeoccasion object (12)
Dificulty:
Recipedifficulty object (1)
---
Directions
Recipe
Heat a saute pan over medium high heat. Carefully add olive oil, garlic, and chile to pan. Cook until garlic turns golden brown. Add shrimp and cook 1 minute on each side. Add tomatoes and cook for 2 minutes. Add white wine and cook until liquid reduces to half. Add butter and pimentos. Adjust seasoning with salt and pepper. Plate dish on small tapitas plate, garnish with chopped chives and toothpicks and serve warm.
---
Recipe Note:
Chile de arbol is a bright red, slender pepper that can be purchased dried or fresh. Added whole to this dish, it imparts a mild spice level. Powered cayenne pepper may be substituted if chiles de arbol cannot be found, or the chile may be omitted for a less spicy version.
Ingredients
1 fl. oz. olive oil
1 tsp. fresh garlic slices
1 chile de arbol
5 shrimp, 31-40 count, peeled and deveined
1 Tbsp. chopped roma tomatoes
2 fl. oz. white wine
1 tsp. garlic butter
1/2 tsp. diced pimentos
1 pinch kosher salt and ground black pepper
1 pinch chopped fresh chives
Copyright TableAgent.com
© Restaurant Agent Inc.
---
---