Texas Style Kobe Beef Chili with Smoked Bacon and Dark Ale Recipe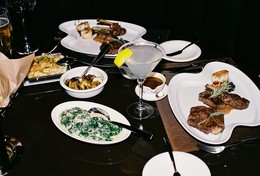 About: TENDER Steak & Seafood has presented you a chili like no other. Created by Chef Fazel, the Texas Style Kobe Beef Chili consists of 100% American Kobe beef top round and smoked bacon in medley of tomatoes, onions, and garlic. In addition, the added dark beer provides a depth that's not found in regular old chili. Create this dish for the winter time to warm up your body on those cold nights.
---
Recipe Info
Prep Time:
3 hour(s) 30 minutes
Meal Type:
Recipemealtype object (6)
Main Ingredient:
Recipemainingredient object (25)
Dish Type:
Recipedishtype object (2)
Cooking Method:
Recipemethod object (18)
Season/Occasion:
Recipeoccasion object (11)
Dificulty:
Recipedifficulty object (2)
---
Directions
Recipe
Brown ground beef and bacon; drain off excess fat. Add onion and garlic; saute until soft. Add flour and incorporate well. Add remaining ingredients.
Simmer for three hours until liquid has reduced to thick chili consistency. Cool overnight and reheat next day to eat.
The taste improves as it sits overnight.
---
Recipe Note:
Regular beef can be used as substitute for Kobe beef. Using ground turkey or ground chicken instead of beef is also an option. You could sauté the onions and the garlic in the remaining fat left over from the Kobe beef to add more flavor to this already tasty chili.
Ingredients
2 1/2 lb. American Kobe Beef Top Round, Course/Thick Ground
1/4 lb. smoked bacon
1/4 C. onion, minced
3 each garlic cloves, minced
1/3 C. flour
1 bottle(s) dark beer
1 qt. unsalted beef stock
1/2 lb. tomato, diced
4 Tbsp. chili powder
3/4 tsp. cumin
1 tsp. oregano
3/4 tsp. cayenne
1/4 tsp. black pepper
2 tsp. sugar
1 Tbsp. salt
2 each bay leaves
Copyright TableAgent.com
© Restaurant Agent Inc.
---
---