Black Pepper Tenderloin of Beef Recipe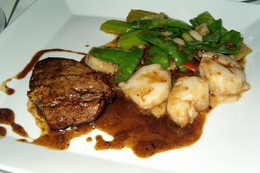 About: A favorite amongst Pearl's patrons, the Black Pepper Tenderloin of Beef from Chef Kai-Wa Yau is a delicious medley created by Chef Yau. For the dish's center piece, it utilizes a delicate beef tenderloin seasoned with black pepper, maggie sauce, and soy sauce. The beef pairs well with a seasonal vegetable medley. Throw the veggies in a pan with the cooked beef and the extra seasoning when sauteing. The result is a dish ideal for lunch or dinner. Add a side of fried rice and dig in.
---
Recipe Info
Meal Type:
Recipemealtype object (5)
Main Ingredient:
Recipemainingredient object (25)
Dish Type:
Recipedishtype object (4)
Cooking Method:
Recipemethod object (15)
Season/Occasion:
Recipeoccasion object (12)
Dificulty:
Recipedifficulty object (2)
---
Directions
Recipe
1. Clean beef and cross cut to five (5) pieces
2. Brown beef both sides in pan with cooking oil; cook about half way.
3. Put all remaining seasoning into pan and mix well with beef (about 20 seconds)
Ingredients
12 oz. Tenderloin Beef
1 tsp. Black Pepper Powder
2 Tbsp. Cotton Seed Cooking Oil
1 tsp. Maggie Sauce
6 oz. Soy Sauce
3 oz. Sugar
1 tsp. Cooking Wine
4 Tbsp. Cooking Oil
Copyright TableAgent.com
© Restaurant Agent Inc.
---
---