Macaroni & Cheese Recipe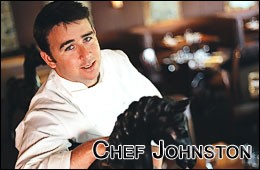 About: Since it's appearance in American cuisine in the 19th century, macaroni and cheese has become a favorite comfort food across the nation. It would be difficult to find a tastier version than the one offered here by Chef Ryan Johnston, Executive Chef at Del Mar's Blackhorse Grille.
---
Cook Tip: The cheddar mornay sauce, while time consuming, is an essential component of this dish.
---
Recipe Info
Prep Time:
1 hour(s) 30 minutes
Meal Type:
Recipemealtype object (5)
Main Ingredient:
Recipemainingredient object (113)
Dish Type:
Recipedishtype object (4)
Cooking Method:
Recipemethod object (1)
Season/Occasion:
Recipeoccasion object (12)
Dificulty:
Recipedifficulty object (2)
---
Directions
Cheddar Mornay Sauce
Melt butter in medium saucepan over medium-low heat. Stir in flour to form roux. Cook, stirring constantly for 20 minutes. Add milk and continue cooking over medium-low heat for half an hour. Mix in cheese and puree with electric wand or mixer until smooth. Remove from heat.
Macaroni & Cheese
Preheat oven to 450 degrees (F). Cook macaroni in boiling salted water, per package directions. When al dente, drain thoroughly and place in casserole dish. Stir in scallions and half of the bacon. Gradually add cheddar Mornay sauce, gently tossing until fully mixed. Sprinkle Pecorino Romano, breadcrumbs and remaining bacon evenly over the top and bake in oven for 15 to 20 minutes, or until casserole is browned on top and bubbling. Remove and let stand for 10 minutes before serving.
Ingredients
3 oz. creamery butter
16 oz. dry elbow macaroni
4 oz. all purpose flour
4 oz. scallions, chopped
1/2 gal. whole milk
4 oz. bacon, cooked crisp and crumbled
6 oz. sharp cheddar cheese, shredded
12 oz. cheddar mornay sauce (see recipe)
4 oz. Pecorino Romano cheese, grated
4 oz. Panko-style breadcrumbs
Copyright TableAgent.com
© Restaurant Agent Inc.
---
---